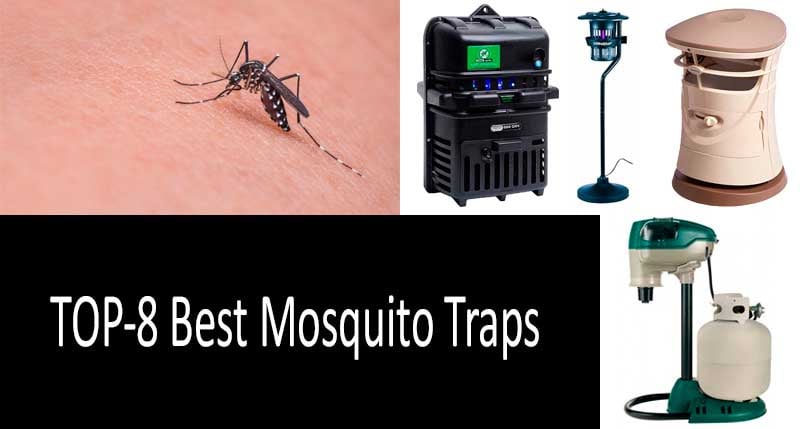 Mosquitoes are among the most annoying enemies of mankind. It's not surprising that shops offer so many products to eliminate these insects. Manufacturers compete with each other, inventing new and more perfect types of traps. But what is the best and the most effective mosquito trap?
Today we are going to discuss TRAPS for mosquitoes. We have thoroughly examined all types of traps available, and now we are ready to help you to choose the most effective ones. We will tell you about the best known manufacturers, the best mosquito killers made by them - as well as Amazon.com sales leaders, and compare the best of them. Moreover, we will know what buyers think about all these things.
As a rule, all mosquito killers are based on the same working principle. The device lures a mosquito into the space which it can't get out of. Once inside, the insect dies because of poison or dehydration.
Mosquitoes are fond of human smell, heat, and water. This feature is used by all traps. Different traps use one or several mosquito "weaknesses" at a time. For mosquitoes, all of these things are associated with food and reproduction - and so they fly towards the trap without looking back.
Next, the differences come. All similar devices are divided into the following types: CO2 (gas exhaled by a person at breathing), H2O (water), and Propane traps. Some models lure by heat and even light.
CO2 traps imitate human breathing. Insects feel the released carbon dioxide at the distance of dozens meters, and take it for the sign of human vital activity.
A similar principle is used by Propane Devices – the most powerful, expensive and effective traps. However, they can only be applied outdoors! We have devoted the whole section at the end of our article to this type of traps. The main point here is that the oxidized Propane can produce moisture and CO2. Both substances produced attract mosquitoes as well as some other winged insects.
A separate type is Indoor traps - since the most of us live in town apartments and need non-toxic traps, harmless for our health. H20 traps are effective both indoors and outdoors: In this case, the fluid serves as both bait and killing surroundings. These traps are sold much better than the propane analogues due to moderate price and good results.
Everything is clear about heat and light

! Light attracts and hypnotizes almost all winged insects, and heat is taken for the source of food and reproduction.
Table of Сontent
What kinds of mosquito traps are there?
There are still more differences between particular traps. Designers and inventors have devised a lot of resources which have made their products unique. For our review, we have chosen 5 types of mosquito traps which are the most common. They are Heat and H2O traps, СO2 and Indoor traps and propane traps. What are their main differences?
Heat traps attract insects by heat. As a rule, they are huge aggregates to be used outdoors or inside a large house. They cost serious money and are not very popular.
H20 traps are rather effective both outdoors and indoors. The main point here is the combination of possibilities given by "water hunting" and CO2. All traps like this are provided by a special tray for water and allow easy gathering of dead mosquitoes. These traps are much cheaper than heat traps.
CO2 traps use carbon dioxide, which is also used by other types of anti-mosquito traps as a bonus. The simplest CO2-traps are inexpensive.
UV Indoor Traps don't release unpleasant gases and odors. They eliminate insects by means of light. Besides, "light traps" are cheap. Check whether changeable lamps are available in the shops of your town, or buy several bulbs at a time to have a good supply. These accessories won't be excessive. ;)
Propane trap require using balloons outdoors. No doubt, this is an expensive choice. However, this very popular product has been tested by the history of long usage.
Advantages & Disadvantages of Different Types of Mosquito Traps: The Comparison Chart
Type of trap

How Does It Attract Mosquitoes?

Where to Use

Advantages

Disadvantages

UV

By UV light

Indoors

Doesn't release unpleasant gases and odors.

Price: from ~$15

The relatively high level of ventilator noise and constant dependence on electricity

CO2

It imitates human breathing, releasing carbon dioxide

Both outdoors and indoors

Price: from ~$107

Some models require using CO2 gas balloons (available separately).

H2O

Mainly by water. It attracts female mosquitoes caring about reproduction.

Both outdoors and indoors

There is no need to use gas balloons or other lures

Price: from ~$131

You have to change and add water, as well as remove the captured mosquitoes.

Propane

It imitates human breathing, warmth and smell of human body.

Outdoors

Both wireless and wired models are available.

These traps require using propane gas balloons.

High price: from ~$290

Heat

It imitates the warmth of the human body.

Outdoors or inside a large house

Large area coverage (up to 1.5-2 acres)

High price: from ~$349
Best Indoor Mosquito Traps
Various traps for these squeaky creatures have been designed to be used indoors. Certain chemical devices may be placed in apartment rooms. However, buyers have associated the notion of indoor traps with light/heat traps for mosquitoes. The sales leaders "in this street" are products from Cocoweb, Flowtron and Stinger.
The traps of this sort have line power connection, but they won't increase your expenditure on electricity much. They use Ultra Violet light, but they won't disturb the sleep of babies. Pluses of indoor traps are high safety and small size, apart from the ability to kill various flying pests. Minuses include the relatively high level of ventilator noise and constant dependence on electricity. (When blackouts occur, some models allow the insects to escape death). If you have children, you can read our article "Mosquito repellent for baby".
Stinger Indoor Insect Trap
Budget Indoor traps cost from $20 to $50, and more expensive ones cost from $100. In this niche, the best seller is Stinger Indoor Insect Trap.
This gadget is quite ecological. To eliminate mosquitoes, it uses a small UV lamp giving off white light, and a ventilator. The card of the product points out that the lamp is easy to change for a new one as soon as the working period is over. But the card tells nothing about how to change the ventilator. The sliding collector for mosquitoes - where you will shake the dehydrated mosquitoes out of - is easy to clean, and can facilitate the procedure of the trap renewal. It is nice that one must not touch poisonous surfaces or pour out nasty fluids. All these pleasant things may be purchased for the pleasant price of ~$59.
Experienced users point out that cleaning Stinger Indoor Insect Trap is necessary once a month. The single unpleasant thing is that some mosquitoes can still agonize at that very moment. There are even more minuses, though. At the rating of 3.5 out of 5 stars, the trap possesses almost the same number of the "fives" as the "ones."
People complain of a loud ventilator sound and the absence of a timer. The reviews differ very much. Some inform about the hundreds of creatures captured. But, for example, Dan Bar Joseph was not lucky: "Within 1.5 months I counted 1 mosquito trapped within the 3 units! … may be the mosquitos in Florida are really clever and the machine is made for Alabama mosquitos only".
For indoor struggle against mosquitoes and other flying insests there are also Bug Zappers - read our article about how to pick a bug zapper right now!
Best H2O Mosquito Traps
Most customers stress the superiority of these devices over light Indoor traps. Compared to the analogues, H20 traps are distinguished by the presence of an open tray for water. Mind that, though mosquitoes lay eggs in water surroundings, they drown in any fluid very quickly. Thus, H20 can lure and kill at a time. Most often, these traps combine light and water technologies.
Their plus is that they need not any other accessories - gas balloons, attractants, poisons… Well, their price is lower than that of propane analogues. Though, they do require some care: You have to change and add water, as well as remove captured victims. Some dislike the unpleasant appearance of this mosquito "soup"…
Dyntrap Insect Trap, 1/2 Acre Pole Mount with Water Tray
Let's discuss the pros and cons of these traps, taking the best seller - Dyntrap Insect Trap, 1/2 Acre Pole Mount with Water Tray - as an example. It is available for $134. The trap is not the smallest one: Its weight is 18 pounds, and its length is 17.5 feet. But Dyntrap looks rather stylish - the design of the gadget resembles a futuristic lamp. According to the words of the designers, the "lantern" like this can protect half-acre area. It can work in any weather and resist the attacks of home animals and a strong wind. It is important that this trap works almost noiselessly: No buzzing, no creaking, as against the samples described above.
Dyntrap Insect Trap uses 4 protection levels at a time. The trap attracts mosquitoes thanks to the warm UV light given by a fluorescent lamp, and releases CO2. Water attracts female mosquitoes caring about reproduction, and a ventilator pulls insects into the cage. The contents of the cage are recommended to be changed about every 5-6 weeks.
Also, users like the original stand which allows placing the trap anywhere.
What are minuses, then, apart from decent price and size? The customer rating is 3.5. The device consumes energy, but the additional expenditure on electricity won't make up more than a pair of dollars a month. Critics point at the collector for mosquitoes which is not very convenient, and the quick evaporation of water in intense heat (when it rains, there is no problem). Also, nature fans can't like the fact of the trap catching useful insects, such as butterflies, bees, and bugs.
It seems to me that many negative reviews were written by tourists who had decided to spare their picnic place from mosquitoes in half an hour. And this thing has been designed for constant usage. To give the result, it needs a week or two.
Price: $134 Check the current price
Best CO2 Insect Traps
We have already written that these traps imitate human breathing, releasing carbon dioxide. They then pull the attracted insects into a net, or a receiving container. But where is the gas in the device taken from? There are two ways. The one is the supply of CO2 from a special balloon. The second mode to supply gas is a photocatalytic reaction. It occurs when UV light contacts with certain metals. During a chemical process, a little gas is released – an amount which is safe for a person, even being used indoors (excluding any extreme conditions). On the contrary, this amount of CO2 will be very sensitive for insects.
Dynatrap Insect Traps family occupies a separate place in the assortment of CO2 - traps. Typically, it includes various devices to eliminate flies, midges, mosquitoes… But the given review is devoted to CO2 devices. One of the most reliable companies offers as many as 6 kinds of photocatalytic devices to fight down mosquitoes: 2 indoor and 4 outdoor traps. The most of these traps may work rain or shine, wet or dry. They are fitted at height with the help of a brand chain (included into the complete set).
The modest model is Dynatrap Ultralight Insect and Mosquito Trap which covers 300 sq. ft. of area. "Elder brothers" are more powerful – they can cover 1000 sq. f., half an acre, or even an acre… The most expensive Dynatrap costs 300 dollars. But now, let's discuss another model.
Dynatrap DT2000XL Insect Trap, 1-Acre
This model is preferred by the customers who value the price-quality correlation – it costs from ~$107.
Dynatrap may be used both indoors and outdoors. This thing doesn't require using CO2 gas balloons. Dynatrap releases CO2 due to the contact of UV and titan dioxide which covers the trap. It is evident that the CO2 amount released by this overhead device can't seriously harm a person in contradistinction to mosquitoes. Also, the device eliminates wasps, hornets, flies, and moths. The device is operated by Net, and a 7 ft. cord is included into the complete set.
UV backlight enhances the action of gas bait. A ventilator is also included. The idea of the collector for mosquitoes is realized very well. If electrical energy ceases, the trap immediately slams, and the insects can't escape and take vengeance.
Dynatrap DT2000Xl Insect Trap
It may be used both indoors and outdoors.
There is no need to use CO2 gas balloons, propane or

expensive attractant.

It's s

mokeless - pesticide and odor free.
Price:
Generally speaking, the model Dynatrap DT2000XL looks very much alike a water trap from Dynatrap. The only difference is the absence of a water tray and a convenient stand… Why, then, is the price so high?
The coverage zone announced causes much respect: As the sellers of Dynatrap have assured, one "head" like this can manage no less than an acre. By the metric system, it amounts to 400 sq. m.! This amount is two times more than the water model Dynatrap covers. Besides, DT2000XL is two times smaller - it weighs about 9 pounds. What concerns the rating of this product, it is slightly less than that of the water trap.
Users lay some claims to the designers. They have noticed that in the instructions there is a postscript made by a tiny type. This postscript points out that the device may be used indoors only in large drawing-rooms. Another claim is that there is no guidance on the device mounting.
Jeremy Brown assures that "the size has significance" : "Catches mostly moths, beetles, and flies. All the big bugs in there make it hard to accurately count the mosquitoes, but the population doesn't seem to have declined by any significant amount in my small backyard". To understand if you need such a trap, read other reviews on Amazon.com.
But the high level of sales of this model speaks for itself - people choose this trap. Maybe they buy it because it is rather cheap compared to other CO2-traps. Though there are some reviews calling DT2000XL "the best thing in the Dynatrap series."
Remember that you may buy Dynatrap DT2000XL Insect Trap for ~$107 Check the current price
Best Heat Mosquito Traps
Heat traps are quite complex and expensive. They imitate various signs of human vital activities. In this case, the main bait is a pulsating heat emitted by the device. The hitting zone of infra-red "heat gun" is from 20 to 50 meters, which results in record-breaking area coverage (up to 1.5-2 acres under ideal weather conditions). Many manufacturers combine the heat gun with "wandering" small led lights luring insects as well as remedies imitating the smell of human body. That is why the price for heat traps heightens up to 1000 dollars. Though, there are cheaper models. One of them is described below.
Mega-Catch Mosquito Traps
Mega-Catch™ Pro 900 PREMIER Mosquito Trap is a heat-combined trap. This is the simplest trap of all Mega-Catch traps. Its price is $349, and an operating zone is 3/4 acres. "Premier" shoots with heat at the distance of 100 feet, and it is provided with the source of dynamic UV light. The complete set includes a net to capture mosquitoes as well as a container with fluid. One may choose this way to kill mosquitoes. The manufacturer provides the product with a one-year warranty, which is evidence of its reliability. Aromatic strips attracting the most of winged blood-suckers are added to the device as a bonus.
Looking at the photos of Mega-Catch™ Pro 900 PREMIER, you may think that it is huge and heavy. That is wrong. Experienced customers assure that, actually, it is much more compact. It's true that they also complain of certain problems caused by the device: Its multi-functionality can sometimes puzzle… Commentators inform that placing and making baits at "fluid hunting" can cause problems, and the settings of the timer are too complicated.
Nevertheless, dozens of users estimate the working properties of the device high and regard it as a profitable purchase.
Price: $349
Mega-Catch ULTRA Mosquito Trap (MCU-900)
This is the version of mosquito catcher by Mega-Catch which has been leveled up and made more complicated.
It costs $899 and resembles a robot-killer. The variety of its possibilities includes 1.5 acre coverage, several programmable modes, an adaptive timer, 5 speed ventilator, and even self-diagnostics… Designers have even managed to install a CO2 balloon into "Ultra" (they say, it increases the effectiveness by 300-400%). It's true that the balloon is empty when supplied in the complete set, - it is required to fill it in one's town, considering the dangers of transporting. The instructions tell that the settings of heat and light irradiation are so fine that the apparatus can be set on any kind of mosquitoes. Also, there is an amusing function "start by one button" – one can imagine that he or she is dealing with a sport car or a supercomputer!
Have the fellows from "Mega-Catch" succeeded to create an ideal trap at a significant price? We may answer: "Almost." We have met only several negative reviews on Amazon.com. What claims have they made on the device? Something like this: "It works well, but requires buying spare parts too often." However, the good reviews are few: The price "bites." Are you interested in what users say about this expensive product? Read all comments on Amazon.com
Propane traps are considered the most effective. Once in the catalytic burner, propane releases carbon dioxide and moisture. Everything is made in a natural way, you can observe the process with naked eye. What is left to do is to add baits, such as Octenol, Lurex3 – and mosquitoes won't be able to resist the temptation. It is recommended to locate these traps between the house and the place of insects' permanent dwelling. The distance from the house must be not less than 15 feet.
Pay attention! Different Biting Insect Attractants and Lures should be used in different regions:
Octenol is more suitable for the northern and coastal states of the US and Canada,
Lurex3 (attracts aggressive mosquitoes, such as Asian Tiger) – for the southern states, including Hawaii.
Best Propane Mosquito Traps
What do we attract mosquitoes with?
1. CO2: a person inhales oxygen and exhales carbon dioxide, which is the strongest natural attractant for mosquitoes. Mosquitoes feel the smell of it at the distance of 65 ft. and hurry towards its source. As a result, we have bites, itching, spoiled holidays and work outdoors.
2. Warmth and smell of human body. It is known that the body thermoregulation is a permanent process that results in perspiration and heat emission from the skin surface. Sweat excretes by means of sudoriferous glands located all over the body. We may not notice it but mosquitoes feel everything and fly to the smell.
Thus, the main task of propane traps is to divert mosquitoes' attention from a person to a trap. How is it possible? It is necessary for the trap to excrete artificial CO2 and mimic body's odors. Propane using traps produce carbon dioxide and moisture during the oxidation of propane in the catalytic burner. As for the second point, attendant baits such as Octenol, Lurex3 etc. work fine.
Since mosquitoes perish quickly without fluid and survive in stagnant water, the trap sucks them in where they die due to the lack of food and dehydration, unable to get out.
It is recommended to set the traps between the house and places where insects inhabit, such as a lake, pond, marsh and so on. The distance from house should be no less than 15 ft. On condition that the unit is properly located, it serves as a barrier between insects and people.

Remember! The most important thing is to make propane traps run at proper time! Turn them on at the very beginning of mosquito season, and you will have more chances to interrupt the reproductive cycle of mosquitoes and lower their amount at your lawn in the coming weeks.
Pros of propane traps:
Besides mosquitoes, they catch midges and other bothersome biting insects.
Many models perform a number of tasks: Emit СO2, irradiate heat, sprinkle water, i.e. - mimic the vital processes of human body in any way and thus attract more mosquitoes.
Both wireless and wired models are available.
Propane trap is easy to set and use.
Cons of propane traps:
Propane is rather expensive expendable material (it takes one balloon for 3-4 weeks, so for a season you require 2-3 tanks).
Propane tank isn't included into the set and is sold separately. You have to buy them permanently or, on the pattern of almost all house owners, re-fill them up at petrol station.
How to choose a proper propane trap?
Area. Does the area influence the choice of a propane trap? As we have understood, yes. The larger your backyard or other space is, the more powerful of a trap you need (or several traps of ordinary strength). It is important also to consider the amount of mosquitoes: If your territory is not large, but with lots of mosquitoes (as commonly occurs in marshes), you should choose a trap intended for a large territory. E.g., the inhabitants of such states as Florida, Alaska, and Georgia frequently write that they have to buy several propane traps due to the improbable amount of mosquitoes occupying their lawns every spring and summer, but "it's worth it."
Power supply. Propane traps differ by the way of power supply: they can be wireless or wired. What is more comfortable? Practically, wireless traps are, of course, more comfortable since there are no any cords or extension cords, and the trap may be located in any place you want. Only a few users choose a wired modification.
Price. Does the price of propane mosquito trap influence its efficiency? Certainly, but it is not a main factor. Expensive, but badly constructed, models are able not to work at all while cheaper ones manage their task very well. Pay attention to the reputation of manufacturer and trust only professional product reviews.
TOP 3 BEST PROPANE TRAPS
We studied carefully different propane traps available on the market in 2015, their customer feedback and sales reports, and have chosen the best ones. We should say that we couldn't find the only one ideal trap, all the traps have advantages & disadvantages. Their ratings on Amazon.com are very much the same, 3.1 – 3.3 stars. So there is no winner, second or third place – they are almost equal and you can choose the best one for your needs.
Blue Rhino SkeeterVac SV5100 Mosquito Eliminator, 1+-Acre Coverage
It turns out that this is the most effective and multifunctional trap. It doesn't require any outlet since it works effectively with propane and a small AA battery to start it up. Blue Rhino SV5100 works better if additional preventive measures are taken. It takes a few weeks to break the reproduction cycle. Some customers have found this to be an effective device to manage the population, especially when used in concert with other methods to reduce the mosquito population. For instance, in addition to running the SkeeterVac 24/7 from early April through the first frost, they also have made a concerted effort to reduce sources of standing water.
But this propane trap is not supplied with a scale showing the amount of propane or bait left. So you have to keep in mind that a propane tank lasts for 3 weeks, and a bait is enough for about a month.
Tips from Amazon.com customers:
Clean and examine the working efficacy of your trap regularly. The more careful you are, the longer the device serves (on average from 3 to 5 years).
Never locate Blue Rhino SkeeterVac near the place where you are, otherwise you will attract insects to yourself rather than the device. The distance between you must be not less than 15 ft. Think over the location of the trap. The best place for the trap is near the running water: "Once I located the unit near the fresh water on the property, the amount of bugs I caught skyrocketed".
When you open the section with mosquitoes to check how many insects have been caught, cover it with a transparent lid, otherwise the alive insects will fly out at once.
If the trap doesn't work, it doesn't mean that it is not effective. Maybe the mosquitoes common in your region are not impacted by the given unit. But so many men, so many minds – read our review "Blue Rhino SV3100 vs. Blue Rhino SV5100" to find out if SV5100 does suit you.
Price: ~$374 Check the current price
Mosquito Magnet MM3300 Executive Mosquito Trap
Executive is the most powerful and nearly the most expensive ($749.99) in the Magnet product line. Others – Independence, Patriot, Defender, Liberty or Commander cost from $329 to $1000. Patriot is the budget-saving & most popular trap, but it has a little bit lower rating (only 3 stars) than Executive on Amazon.com
Customers have noted the decrease in the mosquito population. For allergic persons and other patients, MM Executive Trap may be a single possible way to eliminate mosquitoes. It's a wireless unit powered by rechargeable batteries. Indeed, it requires much care (like any other trap): to change propane tanks, clean reservoir, protect from bad weather, etc. And in the opinion of many customers, the material of the apparatus leaves much to be desired: "For the money I expected a well designed well made product. What I received was a unit made all from plastic. Even the vertical support tube that holds up the expensive trap unit is plastic".
Price: from $749
More details you'll find in "Propane Mosquito Traps Magnet Product Line Review"
Blue Rhino SV3100 SkeeterVac Mosquito Eliminator, 1-Acre Coverage
Customers have compared the given model with the traps of other manufacturers and noticed that Blue Rhino is "safe, quiet and outdoor-hardy." Moreover, this model uses all baits you may think of to attract mosquitoes: CO2, chemicals, sticky band, heat emission, blinking lights, absorption method - so you have more chances that anything will shoot! And it works even at Alaska where the mosquitoes are said to use steroids, that is why they are so big! :)
Price: $295 Check the current price
Careful comparison of two Blue Rhino Propane Mosquito Traps read in our Review: Blue Rhino SV3100 vs. Blue Rhino SV5100
Tips from Amazon.com customers:
This recommendation concerns the using of any propane trap: Turn it on before you see mosquitoes, it will be your first step on the way of getting rid of mosquitoes. The earlier you will turn it on, the fewer mosquitoes you will see later.
Use mosquito dunks as a preventive measure. Put them into stagnant water if you can't get rid of it at once.
The struggle against mosquitoes will be more successful if you combine your efforts with those of your neighbors.
Don't let the trap work on empty, change propane tanks in time: "...I replace the propane before it runs out so the units are not running on empty...which seems to be the main problem with these units".
Mosquito Traps Comparison Chart
As you can see, the market offers a large variety of traps for mosquitoes. So you can choose what you really need. The following summary table will help you.
| | | | |
| --- | --- | --- | --- |
| Name | Type | Advantages | Price |
| Stinger Indoor Insect Trap | Indoor | Is good for indoor usage. Doesn't release gas and chemicals. Small size. | |
| Dyntrap Trap, 1/2 Acre | H20 trap | Fine design and reliable manufacturer. May be used in a large house as well as outdoors. Water tray. | |
| Dynatrap DT2000XL Trap | CO2 | Eliminates mosquitoes within the limits of an acre territory. Combines CO2 and UV. Small size. | |
| Mega-Catch™ Pro 900 | Heat | Two kinds of containers for insects caught. A year warranty by the manufacturer. | |
| Mega-Catch ULTRA Trap | Heat | Fine settings. Covers 1.5 acres of area. Combines light, water, heat and CO2 traps. | |
| Blue Rhino SV5100 | Propan traps | 1+ Acre Coverage. Reasonable price among all propane traps. Safety. Small size. | |
| Mosquito Magnet MM3300 | Propan traps | The most powerful model in the line from a well-known family. Hypoallergic. Accumulator-powered. | |
| Blue Rhino SV3100 | Propan traps | 1-Acre Coverage. Moderate price. Reliability. Uses moisture, heat effect, and chemical baits. | |
NB! The scientists warn that traps do catch mosquitoes (which is confirmed by the experiments conducted), but to no degree do they repel them or decrease the risk of mosquito biting, or break the breeding cycle. They only catch and kill adult mosquito species. Read our article "How to Get Rid Of Mosquitoes" to find out how to stop mosquitoes from breeding and which products will help you reach this goal.