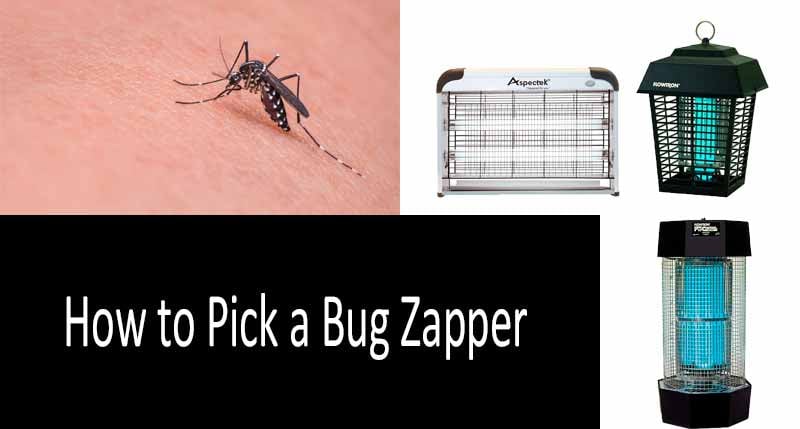 "Once I couldn't sleep all night because of mosquitoes bites..." Has this story been known to you as well? It goes on according to one and the same pattern – itching, swelling of bitten area, big red stains, and the state of drowsiness for the whole day. So what does it mean? - You still don't have a bug zapper that can solve this insects problem!
Spring comes and so does mosquitoes' season. Don't hope for electronic repellers. Unfortunately they don't work as we expect. We tend to trust to BBC research about ultrasound mosquito repellents, when they have compared a lot of scientific facts and cases of fraud to ensure that electronic repellers, radio-repellent and mosquito repellent Apps on smartphones don't work against mosquitoes. And what about zappers?
Table of Contents:
What is a bug zapper? How does it work?
To begin with, let's study the principle of modern zappers' action. They represent an ultra-violet lamp surrounded by electric grid. UV-irradiation attracts insects and when they are drawing nearer, they are facing an electric shock. Zappers are divided into 2 main categories: indoor and outdoor units.
How do bug zappers for indoor and outdoor differ? The first ones attract insects by ultraviolet irradiation while the second ones can also use special attractants and baits.
Indoor zappers resemble ordinary flashlights, but they are supplied by an ultra-violet lamp irradiating the narrow visible range of light. Functioning at a dark time, it attracts flying insects. Flying closer, bugs are being captured. The electric shock kills them.
Such devices are simple and safe to use, however, they must be paid attention and care because they should be cleaned and dusted regularly and kept from moisture and rain. The electric grid is protected safely from touching outside and light irradiation can't harm the sight.
The outdoor zapper works combined with baits and attracts insects by human breathing, warmth, and smell imitation though there are units which can work without baits. Seduced by the attractant and ultra-violet, naïve insects are flying closer and get their electrical discharge. Done!
Such zappers have advantages in comparison with other products since they allow to cover a rather great territory and divert insects' attention from a person. In 7-10 days the amount of flying insects considerably decreases. The results will be evident in 5-6 weeks after the start of the device's work.
10 TIPS to choose a right bug zapper
1. The location Consider the total area and how you are going to use a bug zapper – indoors or outdoors. If you are planning to turn on the eliminator outdoors, it must have the protection from rain and the sufficient radius of action (such characteristics are described in the instruction). The greater is the area, the stronger device you require. Set it not less than 15 meters from your house and 2-3 meters above ground. In this case, the device will beat off the attacks of insects and serve a reliable barrier. Besides, it is not recommended to use bug zappers at home in combination with chemical baits as it is harmful to health.
2. The features of region It is necessary to consider the features of your region and the total number of insects. Big and permanent clouds of flying blood-suckers are observed usually nearby marshes and shadowy bushy places, so you may require several traps to be quite calm.
3. The type of insects Define the type of flying insects in your region. The definition will help to choose the most effective kind of baits (only for outdoors).
4. Day/night working mode Bug killers work day and night, but they are more effective at dark time – so you may leave it working for all night without any doubt!
5. The climate The attractant acts depending on the characteristic features of climate, the direction and strength of the wind. If your territory is protected around by plants and buildings, the trap supplied with a bait may turn out to be rather ineffective.
6. The price of expandable materials The permanent work of outdoor zapper requires the expandable materials (tablets with baits, sticky bands and so on). If you are not ready to spend money constantly, then use other products, for example, mosquito foggers.
7. The way of zapper's power supply Consider the type of the device's supply which suits you best of all. You may choose solar batteries, accumulators or electricity.
8. Bulbs The power of bulbs and their number allow you to use the light trap with the most efficiency.
9. Portability Portability is also a crucial property to consider. A light and compact device are easy to take a trip or transport from one place to another nearby your house (summer-house, terrace, garden and so on).
10. The cost Sometimes, a zapper's cost may indicate the quality of the product. In practice, very cheap products are suspicious as they may be broken easily or turn out to be quite powerless against the massive attacks of mosquitoes while more expensive and proved zappers manage their task excellent.
Do Bug Zappers Kill Mosquitoes?
Yes, bug zappers are extremely productive. Overnight, a single Electric Chair For Insects is capable of killing about 10, 000 insects, but as Jonathan Day, Associate Professor of Entomology in University of Florida says, thousands of beneficial insects are the main victims of the electric devices, while there only few dead mosquitoes. Different scientific studies showed from 0.22% to 4% of female mosquitoes killed in particular.
What about the reviews of the customers claiming to have found many mosquitoes in their zappers? The scientists will disappoint us here as well by declaring that many people can't tell mosquitoes apart from other insects which are very similar to mosquitoes but are not biting midges. Zappers are great for dealing with other flying insects, which annoy those who live near the inland and coastal natural and man-made bodies of water, though.

Is there an alternative to electronic mosquitoes' killers?
Other methods of effective mosquitoes control are: mosquito foggers and mosquito propane traps. Read our article "How to Get Rid Of Mosquitoes in Your House and Yard: 7 Tried and True Ways, Proven by the Scientists" to find out how to stop mosquitoes from breeding.
Indoor Bug Zappers Review
Indoor insect zappers are 100% non-toxic. They work without chemical baits, so they never cause your anxiety or bad sleep. Small zappers will suite a small flat. Place the units in the vicinity of the insects' source, for example, near a window or at the balcony. Remember to consider the distance to the place of your rest. If the house is large, locate several units and sleep calmly. We have studied the best-sellers in the category of home insect zappers and chosen two units for you. Their pros and cons are in our Product Review.
Electronic Indoor Insect Killer Zapper 20W
Coverage area: 6,000 sq. feet (557 sq. meters)
Supplied with 2 UV-lamps which can attract gnats, mosquitoes and flies by their lights – as all zappers, it works better at night, but it can attract insects by day too.
Flying insects are killed instantly touching the metal grid because ultraviolet lights provide an irresistible lure for them.
There are a washable collecting tray and a comfortable chain to hang it up in any place you need.
This Electronic Indoor Zapper is safe for children and home pets because zapper is not toxic, has no odor and doesn't irritate breathing. You many use it at home, restaurant, hotel, shop, store, food preparation areas, hospitals, warehouses, factories, etc. – but only indoor.
Bulbs in the unit are needed to replace – the bulbs have a limited lifetime: it's claimed that a one pair of them must have a 10,000 hour life, but some customers noted: "the bulbs don't last very long.. expect to have to replace them ($14,99 for two bulbs) a pop every 4-6 weeks".
Remember!
If you decide to change the bulb or clean your zapper, first unplug the unit and wait at least ONE HOUR before touching the grid. Otherwise, you can get a hurt, so you'd better obey this rule.
Some users say that the killer is a quiet enough and doesn't make trouble for a night sleeping for them. They tell that there is no way to muffle or reduce this noise when an insect flies into the metal grid, but it doesn't bother them. Others think that this sound is annoying and too loud. Minds are differed, but 68% of Amazon customers give it 5 stars. Satisfied users agree that this thing is indispensable if you have small children, who are suffering so much because mosquitoes bite them at nights. You may read all 1600 customer reviews on Amazon.com to decide is it worth to purchase this zapper for your indoor using.
Price: ~$31.49 Check the current price
Stinger Cordless Rechargeable Insect Zapper
This is a portable cordless insect killer batteries operated. It can attract and kill insects within the radius of 625 feet. The device has a cord for charging and an indicator changing lights from red to green at full charge – customers noted that it's a well-engineered aspect. It is charging for about 3 hours after it can run on batteries for 4-5 hours. By the way, it can also be used outdoors if it's needed— together with a Stinger Octenol Mosquito Lure ($6,97). If you use Stinger Insect Zapper at open air, be careful to take it away when it rain.
Judging the Amazon.com customers reviews Stinger Insect Zapper is effective for small rooms as well as summer-houses, terraces and so on. It has a metal ring, so may be transported easily or hanged up.
The customers have noted that the con of the device is that it can't be turned on during charging as well as the short working period when it is fully charged. In addition, the device is not quite comfortable to clean (if the bug hits the metal innards at just the right angle, they will stick to it rather than fall into the tray). To clean the insects stuck inside the grid, hose it down and let it dry in the sun until the next use. You may do it per a week, for example.
Here is an interesting question on Amazon.com about Stinger Zapper:
Q: My wife wants to know whether she can take the thing to the beach to protect herself from mosquitoes. I say it is out of place. Who of us is right? Help!
A: In theory, it wouldn't be out of place considering that Stinger Zapper runs on batteries and is portable, …nevertheless, it is better to use it at night when the black color of UV bulb attracts mosquitoes. If you prefer to visit the beach at night, then, of course, take it with you!
Price: ~26.22 Check the current price
Questions and Answers about Indoor Insect Zappers
Can I apply it in my bedroom?
Yes, because it is harmless. If you are not touched by the abundance of dead insects in the tray of the device, then use it without a doubt in your bedroom.
Is it necessary to hang the device on? Can I put it on the table?
You can hang it on a ring or put it on any flat surface – table, shelf, floor.
What is the easiest way to clean the Zapper?
The tray under the device is pulled out easily so you can remove dead midges. Also, you may use compressed air spray such as Ultra Duster Canned Air Net (from $10,99).
Outdoor Bug Zappers Review
Best Seller in Bug Zappers category on Amazon.com - 5,000 customer reviews
Flowtron BK-15D Electronic Insect Killer, 1/2 Acre Coverage
The device has an additional electronic insect control and working radius of ½ acre It's a good choice for a large patio or deck and a modest lawn, for example. It can't be clogged. It is not recommended to use it closer than 25 m to the place of human activities, locate it as far from a house as possible, this can mean using extension cords. Flowtron BK-15D Insect Killer is much more effective than its chemical analogs, this led him into the ranks of favorite products among Amazon customers.
The most telling review about this killer: "I purchased the Flowtron product (1/2 acre) and it killed over 300 bugs in one night". It's a great result for just one night, we think. Also, users give a lot of helpful tips, they recommend:
to hang it at a 6-8' level away from your door;
be ready to clean off the grid each day;
keep the unit away from a gas, gasoline, and other flammable substances.
The grid can't be blocked up, so the fire due to short circuit is excluded. The killer has a protective outer frame to save it from children, home animals, and birds. Also, it is supplied with 4 levels action mechanism. Besides, 15 W powered device is an energy-efficient device, so it's definitely not going to break your electricity budget.
The set includes a plate for UV-activation of a bait.
Price: ~$42.42 Check the current price
Essential reading: Flowtron Insect Killer - 1 Acre Coverage review
Flowtron FC-8800 Diplomat Fly Control Device, 120-Watt, Indoor/Outdoor
The device can control areas up to 2 acres. It may be set up both vertically and horizontally. It's a commercial bug zapper so it can be used outdoor or at dumpsters & trash receptacles. The device is equipped with luminous UV – tubes attracting insects and a metal grid with electrical tension 1200 vol. Flowtron FC-8800 is universal and may be used both outdoors (with bait) and indoors (without bait).
Customers from Amazon.com give a lot of tips in their feedbacks:
"If you are lazy to clean the bottom catcher every few days though, just take the tray off so the bugs will fall onto the ground".
"Chickens like to eat dead mosquitoes – don't throw it in a trashcan, it's better to give them your big "сatch."
"If you use it outdoors with a lure, try it with the Octenol cartridges, too". Other helpful tips you can read on Amazon.com.
In practice, many customers don't like a loud sound which occurs when an insect flies into a metal grid. However, as time passes they get accustomed to this drawback and cease to consider it like this: "Oh ya, it's also loud. Really loud. Like machine gun staccato bug bursting happy feeling loud. The first time you see an entire cloud of gnats fly into this thing and go off like microwave popcorn, you'll wonder why you didn't buy it sooner".
Price: ~$324.99 Check the current price
Indoor & Outdoor Bug Zappers Comparison Chart
Product
Type
Coverage area
Price

Electronic Indoor Insect Killer Zapper 20W

Indoor
6,000 sq. ft

Stinger Cordless Rechargeable Insect Zapper

Indoor/ outdoor
It's working radius is 625 feet

Flowtron BK-15D Electronic Insect Killer

Outdoor



1/2 acre (~

21,000 sq ft)

Flowtron FC-8800 Diplomat Fly Control Device

Indoor/ outdoor

Up to 2 acres (~87,000 sq ft)
Five Tips for the effective usage of bug zappers:
Some kinds of zappers are afraid of moisture and rain, so think over their protection.
Don't permit the attractant to work without a bait. Purchase it in time and insert into the device.
Place killers nearby the stagnant water sources, shadowy places and in wet basements where there are lots of mosquitoes usually.
Prevent children and home animals from touching the device, hanging it up 2-3 m above the ground.
What are the best baits to use for outdoor zappers?
In practice, chemical attractants are very effective. You may use №1 Best Seller in Pest Control Lures – Mosquito Magnet OCTENOL3 Octenol Biting Insect Attractant for ~$21. This type of attractants is especially good to attract Asiatic tiger mosquitoes which can pass the virus of encephalitis. Expiration time of the bait makes up from 21 days to 2 months after that it must be replaced.
Or use other baits based on Octenol:
"

Black Flag BZ-OCT1 Bug Zapper Octenol Lure

" (only $6.24)

"

Stinger NS16 Nosquito Octenol Replacement Mosquito Lure

" ($6.97)

"

Flowtron MA-1000-6 Octenol Mosquito Attractant Cartridges

" (pack of 6 for $35.99)