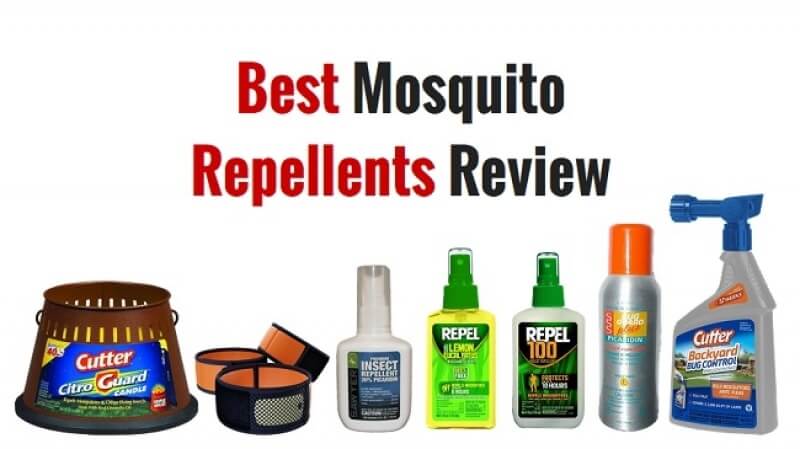 What to expect from a bug spray. What is better a DEET or an organic mosquito spray? What do entomologists say about their efficiency? Centers for Disease Control and Prevention has evaluated information published in peer-reviewed scientific literature and data available from EPA to identify products that are safe and provide high repellent activity. According to the scientific researches products containing the following active ingredients provide long-lasting protection: DEET, Picaridin, Oil of lemon eucalyptus (OLE), PMD, IR3535 and Permethrin. Here you'll find the 16 best mosquito repellents.
Table of Content:
The 6 Best Mosquito Repellent Sprays & Lotions
Modern repellents are quite cheap and therefore are most in demand when it comes to combating blood-suckers: their average cost varies from $5 to $25. They are a simple and convenient way of getting rid of these blood-sucking insects. According to Amazon.com sales statistics, an organic spray is the sales leader, while a more powerful product containing 98% DEET, popular with the fishermen and hunters is a runner-up.
Repel (30% Lemon Eucalyptus Oil)
Repel Lemon Eucalyptus Natural Insect Repellent is one of the best selling sprays on Amazon.com (it's price is $8.97, and its rating is 4 out of 5 stars). This is as inexpensive spray containing only natural components: lemon and eucalyptus oil. It's action lasts for 6 hours; it cools your skin, smells nice and deters mosquitoes.
Consumers praise durability of the repelling substance: "It's interesting to note that the front of the bottle claims it repels insects up to 6 hours, but the CR tests indicated it was still going strong after 8 hours which is equivalent to greater than 15% DEET". The only drawback is that it can cause allergies and, in particular, severe skin itches.
Price: ~$8.97
Repel 100 (98.11% DEET)
A powerful Repel 100 (with the 4.5 stars rating) is a market follower. This product repels mosquitoes, flies and harvest bugs for 10 hours after application. No rival product has a higher concentration of DEET (98.11%). According to the US Environmental Protection Agency, DEET products don't cause any harm to health if used in accordance with the manual.
The manufacturers claim that Repel 100 is a perfect choice for camping or any other extreme conditions. Customer feedback is left mostly by hunting, safari and extreme fishing fans. The only drawbacks identified by them were the grease which gets stuck on the hands after usage and the strong odor. The effectiveness of this product was confirmed by 82% users.
You should know, DEET has undergone stringent testing and has a good safety profile. DEET has been used since 1946. Its toxicology has been more closely scrutinized than any other repellent, and it has been deemed safe for human use, including use on children, pregnant women, and lactating women.
Price: ~$8.97
The same manufacturer launched another DEET-based product, though its percentage is considerably lower and thus more safe – it is only 40%. We're talking about Repel 94101 Sportsmen Max Insect Repellent 40-Percent DEET Pump Spray for ~$8.72.
Sawyer (20% Picaridin)
Sawyer contains Picaridin (the percentage is 20% here), which is used worldwide since 1998 and is one of the best sold active ingredients of insect repellents in Europe. The manufacturer claims that the product will provide up to 12 hours of protection against mosquitoes and harvest bugs and up to 8 hours of protection against moths and sand flies. You can pick the convenient volume: it is sold in 3 to 5 oz packs.
Price: from ~$8.07
Bite Blocker Organic Insect Repellent Spray
It costs ~$7.50. Bite Blocker does not contain active synthetic components, only the natural ones, such as the oils of soybean, castor and geranium. This oil mixture along with the other inert ingredients ensures 7.2 hours of protection against biting insects, carrying the dengue fever, according to the Center for Medical, Agricultural, and Veterinary Entomology, Gainesville, FL studies. Another scientific work claims that "A soybean-oil-based repellent protected against mosquito bites for an average of 94.6 minutes", which can be compared with the use of low-concentration DEET products.
Price: ~$7.50
Avon SKIN SO SOFT BUG GUARD Plus PICARIDIN
This product is the least severe of all the artificial products in our rating, as Picaridin concentration in its makeup is only 10%. Amazon.com rating of this spray is 4.3 stars out of 5, and its price is only ~$14.95. The users praise its light odor, effectiveness and being gentle on the skin. Some, though, claim that the spray was completely useless for them. To each their own, I guess.
Price: ~$14.95
Avon SKIN-SO-SOFT Bug Guard PLUS IR3535
Among cream and lotions Avon Bug Guard is a true bestseller. Such cosmetic repellents not only protect you from multiple types of insect, but also moisturize your skin. The mosquitoes, meanwhile, are repelled by the chemical IR3535. What can this Avon product do? It has a high rating of 4.5 stars for a price of ~$21.95. This is a regular "anti-insects" cream, the type which was sold 10, 20 and even 30 years ago. You pay for a small 4 oz pack, an SPF 30 sunscreen, moisturizing aloe extract and vitamin E. Avon claims that Avon Bug Guard Plus IR3535 is the best choice for having a quality family time outdoors without extreme trips to jungle full of biting midges. Probably the target audience rates the product as the best. 85% of the customers have given it positive feedback.
Price: ~$21.95
What is the difference in the action of a natural mosquito repellent and DEET?
Natural repellents act differently that DEET-based synthetics do. The scientists Marta Ferreira Maia and Sarah J Moore proved that plants can repel the insects. The entomologists have done a great job summarizing the results of dozens of biologists' research. They compared their field and lab studies and identified the most effective plants: Citronella, Lemon eucalyptus and Lemongrass. But they won't suppress the mosquitoes' reaction to human smell. The synthetic DEET-based products inhibit this reaction and it becomes harder for the insects to identify human smell.
Moreover, the artificial chemical products are tested more meticulously than their organic counterparts due to the fact that everything synthetic is considered to be far less healthy. In reality, they are rather safe for people. The organic products are often disregarded and become the Trojan horse, especially if you've risked using pure essential oils.
We can therefore see that the use of synthetic repellents is more supported by the scientists and thus it increasingly replaces the use of their natural counterparts. Add the fact that DEET is way cheaper to that and the conclusion will be obvious. It is not in vain that every 4th USA resident (which adds up to 78 million people annually), every 4th UK resident and 200 million more people across the world trust the synthetic products.
Do Vitamin B1 and Brewer's Yeast Work?
There are lots of myths regarding natural mosquito repellents online. One such misconception is that apparently, Vitamin B1 (thiamine chloride) and brewer's yeast repel insects if taken orally. The manufacturers claim that a single pill will give you 24-hour protection! Tempting, isn't it?
We'll have to disappoint you, though, as the North Carolina State University scientists don't trust the effectiveness of these "magical pills" and state that the results of several scientific studies do not support the claims that these materials are effective repellents for biting insects.


Bracelet & T-shirt
Looks like wearable gadget trend is flourishing not only in the fitness gadget industry, as several repellent wristbands are found on Amazon.com.
Invisaband Bracelets
This is the most popular repellent bracelet online (its Amazon rating is 4 stars). For $23.99 you get an opportunity to repel insects without having to rub the cream on your skin or to spray all over the place. All you have to do is wear a blue band, and mosquitoes won't approach you. There are 5 bands in one set.
Surprisingly, Invisaband Bracelet is made of organic components, and it drives the insects off with the smell of geranium. The band itself can be adjusted for any wrist size, which means that even kids can wear it. A single set lasts for 120 hours. You can go hiking, play soccer or take up any other sport while wearing it. You can also wear it as an anklet.
When it comes to Amazon customer feedback, it is very inconsistent. 20% of customers complain of the device's utter uselessness, while the majority notes its effectiveness. Why so? Perhaps, some of the users receive a stale package.
Price: ~$23.99
iCooker® Bracelets
This sales leader works similarly to other products as the mosquitoes are deterred by a mixture of essential oils. Although the manufacturer doesn't give a list of the oils in question, the users suppose that they are citronella, geranium, peppermint and lavender oils. Unlike the previous band, iCooker bracelet doesn't have an expiry date as you can use special repellent refills (2 are supplied with the bracelet, and additional ones cost $4.99). Each refill can last up to two weeks, which means that the original package of a bracelet and two refills for $5.49 will serve you for an entire month.
Judging by its high Amazon rating of 4.5 out of 5 stars, this device has gained approval from the customers as only 10% of over 200 users are not entirely satisfied with this wristband. Some customers tried to save their dogs from mosquitoes with this band, which worked well.
Price: ~$5.49
Is Permethrin-Treated Clothing Safe? - YES.
Military uniform, permethrin treated, has long been tested on the military personnel. It has saved the American soldiers from malaria and other insect-borne diseases, some of which can be deadly. The U.S. Army has used permethrin for more than 20 years to treat uniforms.
EPA guarantees safety of permethrin-treated clothing. In 2009 they assessed the risks including the risks of toddlers wearing or mouthing such clothing, personnel who wear permethrin-treated uniforms on a daily basis and came to a conclution that permethrin factory-treated clothing is unlikely to pose any significant immediate or long-term hazard to people wearing such clothing. They also claim that such clothes carry no harm for pregnant and breast-feeding women.
Zorrel - Insect Shield Apparel Long Sleeve Tee Shirt
A Zorrel Tee Shirt (for a price of $27.95 - $31.35 and rated 4.5 stars out of 5) is an interesting item. Its manufacturers claim that it would drive away many types of insects. It is made of cotton and microfiber and it is resistant to moisture and heat. Permethrin, a synthetic analogue of a natural repellent found in chrysanthemums, is added to the fabric. Earlier permethrin was used in anti-lice shampooing and dog collars. Permethrin in this t-shirt's fabric doesn't wash away after 70 washes at most. According to the customer reviews, it truly works. The only condition of that is that you can't bleach the shirt or wash it in the machine. Funny, but the something along the lines of "it wasn't really useful against mosquitoes, but it looks nice" was something we came across occasionally, although 86% of customers consider this product to be useful.
Price: $27.95 - $31.35
Permethrin is a highly effective insecticide-acaricide and repellent. Permethrin-treated clothing repels and kills ticks, chiggers, mosquitoes, and other biting and nuisance arthropods. The U.S. Army has used permethrin for more than 20 years to treat uniforms. You can buy Sawyer Products Premium Permethrin Clothing Insect Repellent (from ~$10.75) and spray it to your clothing. The effect lasts for up to 6 weeks or 6 washings.
Natural Outdoor Mosquito Repellents
Citronella candles are rather popular when you're having a barbecue or a picnic outside. Let's discover its advantages and disadvantages in the example of Cutter HG-95784 CitroGuard Candle.
Cutter HG-95784 costs $7.47. Each candle can burn up to 40 hours and consists of real citronella oil. That is, we've got a natural repellent here. The area of coverage of this "aroma fog" can protect a whole family or even a group of campers. It won't protect those who move along the shore or across the forest from insects, though. However, once they want to sleep or have a rest, they can very well use these candles as a natural mosquito control.
Price: ~$7.47
There are of course popular and well-known All-natural Premium Citronella Outdoor Garden Incense Sticks for $17 with the pleasant andiroba, citronella, rosemary & thyme smell, which can be used both for outdoor eating and romantic evenings. They've got a high rating of 4.3 stars out of 5 and they received over 400 customer reviews on Amazon.com – you can read them here.
The customers love it that these citronella sticks are completely safe. This is a great alternative for those who love reading on the patio at home on quite summer evenings. You can simply stick this product in a sand pot, light it and keep it around your patio.
Price: ~$17 (for the set of 12 sticks)
Read what are the best natural mosquito repellent plants? Getting rid of mosquitoes naturally: How do plants can help you.

The Best Mosquito Spray for Yard, Patio, Lawn & Garden
Let's now focus on the situation when you have a large territory near your house and there are so many blood-sucking insects that you can't leave your house without using a whole bunch of products simultaneously. This is especially true if you live in the area of damp climate, for example in Florida or somewhere near water. Concentrate chemical spray, natural liquid repellents and special granules are the solution to your problem.
Cutter Backyard Bug Control 32 oz Ready-to-Spray Hose End Insect Repellent Concentrate HG-61067
For eight bucks you get a vial of a deadly mixture of 0.16% LAMBDA-CYHALOTHRIN which will repel and kill the insects within 5 000 sq.m. Lambda-cyhalothrin is an insecticide, belongs to a group of chemicals called pyrethroids (manmade chemicals that are similar to the natural insecticides pyrethrins).
It is supposed to be used outdoors as even the rain can't wash away this solution which will stay put in your backyard for up to 4 weeks. We'll warn you that this option won't do for a small cottage or a private house backyard. Cutter Backyard Bug Control is obviously to be used in large yards in regions infested with mosquitoes.
The main perk of this product is its versatility. It can exterminate underground, lawn insects as well as those which inhabit tree branches, such as mole crickets, flies, biting midges, cockroaches, crickets and harvest bugs. This spray's rating is 4 out of 5 stars on Amazon.com. It is praised for its effectiveness and is accused of causing harm to helpful insects, such as bees, butterflies and other pollinators.
Price: ~$8.35
Mosquito Barrier 2001 Liquid Spray Repellent
This is an all natural liquid product. Barrier 2001 is a 1 quart concentrated product. The active repellent is garlic. Its effect lasts for 3-4 weeks. According to the manual, you have to dilute the product in water in order to get the solution. Many users use such proportions as 4 oz/1 gal of water or 8 oz/1 gal of water and 2 oz of canola oil. For spraying, you'll need a special garden sprayer, such as Chapin 20000 1-Gallon Lawn and Garden Sprayer for $14.50.
Another detail (which we have already mentioned in our best propane fogger review) is that this product is used by some customers as a fogging liquid for propane foggers. One of the consumers has even mentioned that she bought a fogger, Barrier Spray and a bottle of Black Flag for the fogger, and as an experiment decided to first use the organic Barrier (she diluted 2-3 oz/40 oz. water bottle on the fogger). As a result, the number of blood-suckers has diminished completely, although more frequent spraying is required. Black Flag bottle is still left unopened.
Price: ~$18.70
Mosquito Repellent for Dogs
Now that you know how to protect yourself, let's focus on our pets, in particular on our dogs. They suffer from the blood-suckers attacks as much as you do, and so the helpless pets need to be saved! Who will be their savior if not you?
First of all, you need to decide which treatment you're going to use: synthetic one or natural one only? We'll present both options you, we'll cover the permethrin-based drops and a natural spray. As for the collars, don't count on them as they are not designed for repelling mosquitoes and are only useful for driving away fleas, ticks and lice.
Never use human insect repellent sprays on dogs! The DEET manufacturers state that it cannot be used on cats and dogs as DEET is very toxic and can be dangerous if consumed. The pets, on the other hand, love licking their fur and paws. That's why the vets recommend using drops and dripping them exclusively on withers so that your pet won't be able to lick the substance off.
As we've mentioned above, permethrin is one of the most effective synthetic chemicals against blood-sucking insects. The National Center for Biotechnology Information scientists have proven that during the course of an experiment "Treatment of dogs with 65% permethrin reduced the mosquito landing rates by 96.3% 6 hours after treatment and by 82.5% on Day 1". However, we don't live in a lab and we are only interested in the real life repelling effect. As you can see, you can count on permethrin, so we'll use it.
Bayer K9 Advantix II Flea and Tick Control Treatment for Dogs, contains 44% of Permethrin
This product costs from ~$24.99, and is one of the best sellers in the Drops category on Amazon.com. Unlike its rivals, it can repel not only fleas and ticks, but also mosquitoes, as it contains permtethrin. The price depends on a dog's weight and on the number of vials with insecticide in a set. The users give rather positive feedback to this product: "I have a 15 lb dog and she kept getting blood-sucker bites on her underbelly. Since we started using this product we haven't had this problem". Read over 3100 customers' reviews on Amazon.com
The drops are water resistant and are to be applied once a month only which is very convenient. But first make sure you test the product on a small area of your dog's skin. If no allergy is revealed (the allergy is possible in case your pet's skin is sensitive), then you can go on to use it.
NB: Both the manufacturer and we would like to remind you that permethrin is dangerous for cats and they cannot therefore be treated with it, as lethality is possible! Use it for dogs only!
Price: from ~$24.99 Check the current price
Vet's Best - Flea & Tick Home Spray
We've mentioned it as a best flea spay for dogs: Vet's Flea & Tick Spray is considered to be #1 Best Seller in the Dog Flea Spray category. What is important is that apart from it's main function (Flea & Tick Control), the manufacturer also promises that it can also repel mosquitoes. The price starts at ~$3.63 and it is made of peppermint oil and clove extracts which are well-known as powerful natural repellents. Some say that it can even kill insects on contact, but we hardly believe that an herb-based product can have a killing effect. It didn't help some consumers treat the dogs, but we are sure that you understand that no perfect treatments exist.
Price: from ~$3.63 Check the current price
Also read: How to get rid of fleas in house
When is it better to use ready-to-use natural mosquito repellents?
As you have probably understood, 100% organic does not always mean 100% safe, that is why you need to be extremely cautious when using them. There are special cases, though, when it is necessary to use the natural deterrents:
If you have sensitive skin. In this case it is not necessary to stop using synthetic products completely, provided that you read the list of components and choose a plants-based product (be it a lotion, a cream or a spray) containing either lemongrass or citronella. Mind that the main ingredient which is contained in a product is always the first one on the list!
If you're treating the outdoor territory. Should the use of a fogger be undesirable, do use the repelling citronella sticks and candles. They are rather reasonably priced and will help your reduce the number of bites (but not get rid of them completely, as we have stated above).
If you aim to protect the sensitive child skin. Despite the fact that the DEET-based products can be used to protect children, we recommend buying special ready-to-use baby repellents for both babies and kids. It's a good thing that a wide range of products is available, as the babies and toddlers can be protected with bracelets and stickers and older children can use mild sprays based on an essential oil blend.
Our key message is that you shouldn't use 100% pure essential oils as repellents as it can be dangerous. Apply ready-to-use products!
Allergic People
If you are allergic, you have to be extra careful. Fortunately, there are many safe products. We don't know whether you are allergic to some chemical components or to the plants that repel mosquitoes (lemon, eucalyptus, anise, cedar, clove, etc.), that's why we'll only draw your attention to those devices which are 100% hypo allergic. There are only 3 types of them:
Indoor & Outdoor Zappers
Read our "Ultimate Guide on How to Get Rid of Mosquitoes".
Mosquito Repellents Comparison Chart
Active Ingredient

Product

Price

DEET

Repel 100 repels biting insects up to 10 hours

Picaridin

Sawyer (20% Picaridin) provides up to 12 hours of protection

Avon SKIN SO SOFT with 20% Picaridin is a spray for soft family protection

Permethrin

Black Flag Fogging Insecticide is used for spraying large territories with a fogger

The permethrin-treated Zorrel - Insect Shield Tee Shirt

Sawyer Permethrin Clothing Insect Repellent is a special spray for treating clothes

Bayer K9 Advantix II Flea and Tick Control Treatment for Dogs – use these drops as a protection against blood-sucking insects for dogs

IR3535

Avon SKIN-SO-SOFT IR3535 – this is a moisturizing mosquito repellent lotion with sun protection

Pyrethroids

Cutter Backyard Bug Control is an insecticide for protecting large territories, is to be attached to a hose.

Lemon Eucalyptus oil

Repel Lemon Eucalyptus Natural Insect Repellent repels mosquitoes up to 6 hours

Citronella oil

iCooker Bracelet is a natural repellent band

Cutter Candles - for natural protection

Citronella Outdoor Sticks (set) – the smoke appearing after burning these sticks repels insects

Geraniol oil

Invisaband Bracelets – this is a safe band which can be used even by the kids

Soybean, castor and geranium oils

Bite Blocker (Organic) provides 7.2 hours of protection against mosquitoes, carrying the dengue fever

Peppermint oil and eugenol (clove extract)

Vet's Best is a natural repellent spray for dogs
Trends and Threats
Why have the American citizens begun to search for biting insect protection online more often?
Global warming reinforces the urgency of the issue, as due to it the mosquito population increases every decade, and their active breeding season begins earlier. In addition, they actively explore new territories. According to a scientific study's findings, the land area they cover will increase from 5% to 16% within the next 20 years. Washington University in St. Louis scientists claim that the residents of the North-East of the USA (including Maine residents) can come across Asian tiger mosquitoes, which used to live in the south only.
Moreover, the lethal Zika virus started spreading again last year, and just like several other deadly diseases, including malaria, encephalitis, yellow fever, Lime's disease. That's why you'd better prepare to these insects' attack in advance this year. Unfortunately, there are tons of web sites online which spread irrelevant information on the matter.
Guides on eliminating are extremely popular. This is proved by the search statistics. Since 2009 consistent growth of search queries is observed. This growth is correlated with the series of abnormally hot summers in Asia, USA and Europe. The hype around Dengue fever and other diseases also fuelled the interest to the subject.
The USA is one of the top 10 countries the residents of which google mosquito-related queries most often. The popular with tourists Asian countries (such as Hong Kong, Taiwan, Thailand and Indonesia) as well as the Latin American neighbors of the US (Uruguay and Puerto Rico) make the top of this list. Moreover, the domestic interest in the USA is growing consistently too as the number of such queries doubled within the period from 2009 to 2015 in the summer.
9 Most Mosquito Suffering States in the USA
We, at Stoppestinfo.com, have listed the states which suffer from blood-sucking insects the most, according to the Google Trends data. The top three are Alaska, Hawaii and Louisiana. It is remarkable that these regions aren't very much alike: in the north the biting insects are attracted by the marshes and lakes, and in the south they are drawn by the warm climate and humid air (just like in Oklahoma and Florida). Next come Arizona, North Dakota, Arkansas and Michigan. The following 5 cities suffered most from mosquitoes in 2015: Atlanta; Chicago; Washington, D.C.; Detroit; Houston.
Repellents queries are considered to be the top ones as there are 28 000 of them per month, followed by 18 100 of natural products and 18 100 of traps. Among other frequent searches you can find the general elimination guidelines (8 100 hits per month) and DIY traps manuals (6 600). The demand for foggers and spray information is slightly weaker (there are only 4 000 – 5 000 monthly searches). The situation is similar with the bracelets and electronic gadgets (1 500 hits per month). Zappers lead among the electronics-related searches, as they are googled 10 000 times per month in average.