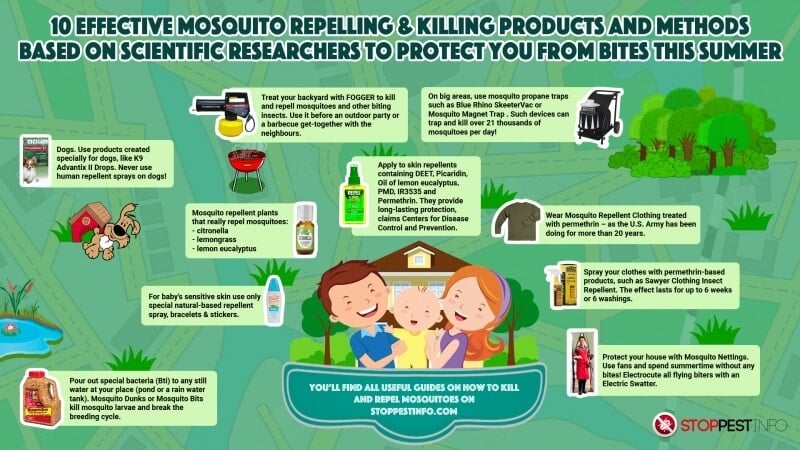 Everyone is so sick and tired of mosquitoes, that people keep inventing newer ways of killing them. Amateur and experimenters recommend rubbing the herbs all over, while the manufacturers keep launching new electronic devices.
But you should know what is USELESS against mosquitoes. Electronic repellents and apps are absolutely ineffective against mosquitoes, and that has long been proven by the scientists. So don't waste your time, and use products approved by scientists.
Here you'll find 10 Effective Mosquito Repelling & Killing Products and Methods Based on Scientific Researchers to Protect You from Bites this Summer
1. Apply to skin repellents containing DEET, Picaridin, Oil of lemon eucalyptus, PMD, IR3535 and Permethrin. They provide long-lasting protection, claims Centers for Disease Control and Prevention. Here are 14 best mosquito repellent products.
2. Spray your clothes with permethrin-based products, such as Sawyer Clothing Insect Repellent. Permethrin-treated clothing repels and kills ticks, chiggers, mosquitoes, and other biting and nuisance arthropods. The effect lasts for up to 6 weeks or 6 washings. The main benefit of a spray is a ~$13 price for a 12-ounce Sawyer spray bottle.
3. Wear Mosquito Repellent Clothing treated with permethrin – as the U.S. Army has been doing for more than 20 years.
4. For baby's sensitive skin use only special natural-based repellent spray, bracelets & stickers.
5. Mosquito repellent plants that really repel mosquitoes: citronella, lemongrass, lemon eucalyptus.
6. House. Protect your house with Mosquito Nettings. Use fans and spend summertime without any bites! Electrocute all flying biters with an Electric Swatter.
7. Dogs. Use products created specially for dogs, like K9 Advantix II Drops. Never use human repellent sprays on dogs!
8. Yard. Treat your backyard with FOGGER to kill and repell mosquitoes and other biting insects. Use it before an outdoor party or a barbecue get-together with the neighbours.
9. On big areas, use mosquito propane traps such as Blue Rhino SkeeterVac or Mosquito Magnet Trap. Such devices can trap and kill over 21 thousands of mosquitoes per day!
10. Stop Mosquitoes From Breeding. Pour out special bacteria (Bti) to any still water at your place (pond or a rain water tank). Mosquito Dunks or Mosquito Bits kill mosquito larvae and break the breeding cycle.
You can also read our review "Best way to get rid of mosquitoes".