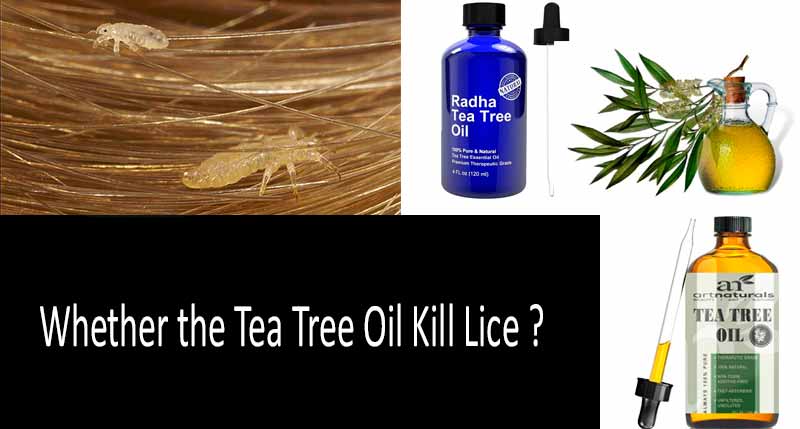 Let's first figure out whether is it true that tea tree oil kills lice? The scientific community does not agree on the effectiveness of the tea tree oil as a means of eliminating lice. We have gathered all of the opinions and studies for you to make your own judgment.
Does tea tree oil kill lice eggs?
According to the Therapeutic Research Center, "early research suggests that tea tree oil might repel lice. Also, applying a combination of lavender and tea tree oil kills lice eggs and reduces the number of lice alive. It is unclear if the effects are caused by the tea tree oil alone or the combination of lavender and tea tree oil". The Australian scientists of the University of Queensland have conducted an experiment on 123 children and consider the products containing tea tree and lavender oil to be effective. So, you'd better mix two oils to kill lice eggs.
Italian scientists have studied the reaction of the 69 lice collected from the kids' heads and placed into the oil and have come to the conclusion that "because of the low molecular weight, such compounds can pass through the cuticle of louse up to the trachea causing the death of head lice by suffocation.". In this connection, they advise the patients to "apply oils, cover hair with a shower cap, and let it stand overnight with the aim to suffocate the remaining live lice (nymphs)".
Tea Tree Oil Lice and Nymphs Killing Recipe from Italian scientists
Apply oil to sculp and hair.
Cover hair with a shower cap.
Leave it overnight.
Repeat 2–3 times a week.
But the New Jersey Department of Health experts warn that "there is little proof that these methods are effective in killing the lice and nits on the head. Some of these remedies include olive oil, mayonnaise, tea tree oil, petroleum jelly, and hair dryers." Our expert, an M.D., considers that it is premature to be optimistic about the ability of such oil to kill lice. You can always use it as a preventive measure and facilitate combing with it, though.
However, if you have already been infected with lice, don't waste your time finding out whether the tea tree oil is really effective, and read our Very Detailed Guide on How to Kill Lice: an Overview of the Best Sprays, Shampoos, and Combs.
How to Use Tea Tree Oil to Repel Lice
Сan you prevent lice with tea tree oil? - YES, you can.
The thing about the tea tree oil is that its smell is pleasant for people and deterring for the lice. Those who spend much time with lots of people (due to the nature of their work, for example) where they can encounter lice-infected persons often use this method.
This is especially relevant to the kids who don't yet understand that they shouldn't be hugging other kids or switch hats with them. It's better to prevent the problem in the first place rather than to treat it later on.
How to use oils
Every day. Add few drops of the oil in your shampoo daily.
New places. If you or your kids visit a new place, where the likelihood of catching lice is high, apply a few drops of a tea tree essential oil on the temples, hair and back of the head. Make sure the hair exudes the aroma of this essential oil.
Schools & Camps. Most often the kids get infected at school or in summer camp. Unfortunately, because a child with an active head lice infestation has likely had the infestation for a month or more by the time it is discovered, teach your kids to apply the oil or spray on their hair daily.
5 Best Oils, Shampoos and Sprays
There are many products containing tea tree oil on the market today. Shampoo manufacturers add a number of other oils along with this one to their goods. You can come across shampoos containing citronella, anise, geranium, lavender, peppermint, rosemary oils, etc. As we've mentioned above, some scientists believe that an oil mix (namely, a combination of lavender and tea tree oil) is able not only to repel head lice, but also to kill them. We've found the five best products.
Pure Tea Tree Oil
100% tea tree oil is a rather popular shampoo additive. Tea tree essential oil is a multi-purpose product. It remedies the burns and itching of a person's head skin, cures some of the skin infections and even repels pets' fleas. This is both an anti-fungal medication and a decent antiseptic. We recommend that you to use it for prevention rather than for direct elimination of the lice. Add a few drops of it in the shampoo and apply on your hair before leaving the house. The great thing about it is that there are no artificial chemicals. The oil is made by steam distillation of fresh leaves.
For proper use, add it to your daily shampoo or apply a few drops of oil on the temples, hair and the back of your head.
Small (10ml) and Best selling: Therapeutic Grade Essential Oil: ~$6.99 Check the current price
Big (118 ml): Tea Tree Large 4 ounce bottle: ~$9.99 Check the current price
100% tea tree oil is the most accessible and popular way of controlling these parasites. If you don't want to bother adding oil to your regular shampoo, use ready-to-use shampoos, conditioners and sprays for kids and adults.
Pure Tea Tree Oil Shampoo for Adults
This is a #1 Best Seller in Lice Shampoos & Rinses category on Amazon.com. The users are rarely this unanimous as this product has over 1000 satisfied customer reviews and a high rating of 4.3 stars out of 5. This ~$9.93 shampoo has a relatively gentle action for a medical remedy, does not contain any parabens sulfates or aggressive chemicals. It promises to remove dandruff, moisten the scalp and strengthen any weak hair follicles. Its main feature is that it repels and kills lice with its natural active ingredients, such as tea tree, jojoba, argan, lavender, rosemary oils.
Judging by the reviews, the oil mix is indeed effective: "It leaves hair a little dry but if it takes dandruff away and lice so I don't really mind". "I've tried so many shampoos before but this one was the quickest and most effective in killing the lice." It can also be successfully used for protecting and treating lice on children. For kids though, we recommend using special kids' shampoos. This item will be a perfect solution to the problem for adults suffering from head lice infestation symptoms, itching, dandruff and brittle hair. The shampoo is suitable for any hair type including dyed hair.
Price: ~$9.93 Check the current price
Here are three products designed especially for kids. They are the ones who are most in need of powerful protection from annoying lice which they can catch anywhere: in the kindergarten, at school, at summer camp, street festival or even within five minutes spent on a playground.
Fairy Tales Rosemary Repel Lice Prevention 12-Ounce Shampoo and 8-Ounce Conditioner Combo
This kids' $18.38 combo contains a shampoo and a conditioner based on a mix of the following oils: rosemary, lavender, tea tree, anise, citronella, cinnamon and others. The kids' Fairy Tales Set's action is gentler than that of the similar products for adults. The set is aimed at protecting sensitive scalp and thin hair. It is Paraben and SLS free.
The contents of the shampoo and the conditioner are roughly the same which allows them to provide dual protection when combined. The shampoo washes the hair while the conditioner moistens it, facilitates brushing and repels any new parasites. Don't forget to comb your kid daily until the parasites are completely removed. The users claim that although this set is rather expensive for daily use, its premium price is fully justified as the kids will no longer catch any lice at school. Read all the customer reviews to know what other features makes this shampoo and conditioner combo superior to single products.
Price: ~$18.38 Check the current price
SoCozy Boo! Lice Scaring Spray Tea Tree
Are you getting your child ready for a summer camp or a hike? Put this stylish bottle in their backpack and explain that it gives them super-powers. A few zilches on a daily basis will prevent all parasites from bothering your kid, so teach them this daily routine. This ~$10.67 spray has a decent odor and a cool name and will protect your kid from lice whenever you are not around. Establish this routine a few days prior to leaving and your kid will get used to treating their hair on their own.
SoCozy Spray contains the same natural ingredients: tea tree oil, peppermint oil and rosemary extract. It is non-toxic, not sticky (as it is based on water) and has gentle action. We'll emphasize that it is a repellent and it won't kill any existing lice, so before you send your child to a summer camp, make sure they leave with a clean head. Over 70% of the users are satisfied with this product's effectiveness. This is a decent preventive measure which will always be useful.
Price: ~$10.67 Check the current price
Best Tea Tree Oils, Shampoos and Sprays Comparative Chart
Product
Active Ingredients
Action
How to use it?
Price

Therapeutic Grade Essential Oil

100% pure oil
Repels parasites
Add several drops in your regular shampoo.

~$6.99 (10 ml)

Tea Tree Large 4 ounce bottle

Apply on temples and hair before going out.

~$8.99 (118 ml)

Pure Tea Tree Oil Shampoo

Tea tree, jojoba, argan, lavender, rosemary oils
Repels and kill parasites
Apply on hair, leave for 2-3 minutes and rinse off. Is suitable for daily use.

Fairy Tales Rosemary Shampoo and Conditioner Combo

Rosemary, lavender, tea tree, anise, citronella, cinnamon etc. oils
Repels parasites
Wash your kid's hair with shampoo thoroughly, apply conditioner and rinse off. Is suitable for daily use.

SoCozy Boo! Lice Scaring Spray Tea Tree


Tea Tree Oil, Peppermint Oil and Rosemary Extract.
Repels parasites
Apply on hair, scalp, back of the head and behind the ears. Is suitable for daily use.