In this guide, you will learn about the Taurus SC termiticide, its effectiveness according to scientists, and recommended ways of application. We have done a comparative review of other best-known termiticides, such as Termidor, Demon, Talstar, Spectracide, BioAdvanced, and Harris. We highlighted their strong and weak points to facilitate your choice. We have compared their effectiveness in termite control, residue, repelling, as well as in barrier, perimeter, and spot treatments.
When dealing with professional-grade insecticides, it's recommended to buy them at an online retail store specializing in pest control products, like www.domyown.com. They have a staff of professionals and can provide professional consulting in pest control, lawn, gardening product usage after purchase.
How to Use Taurus SC? Effectiveness and Application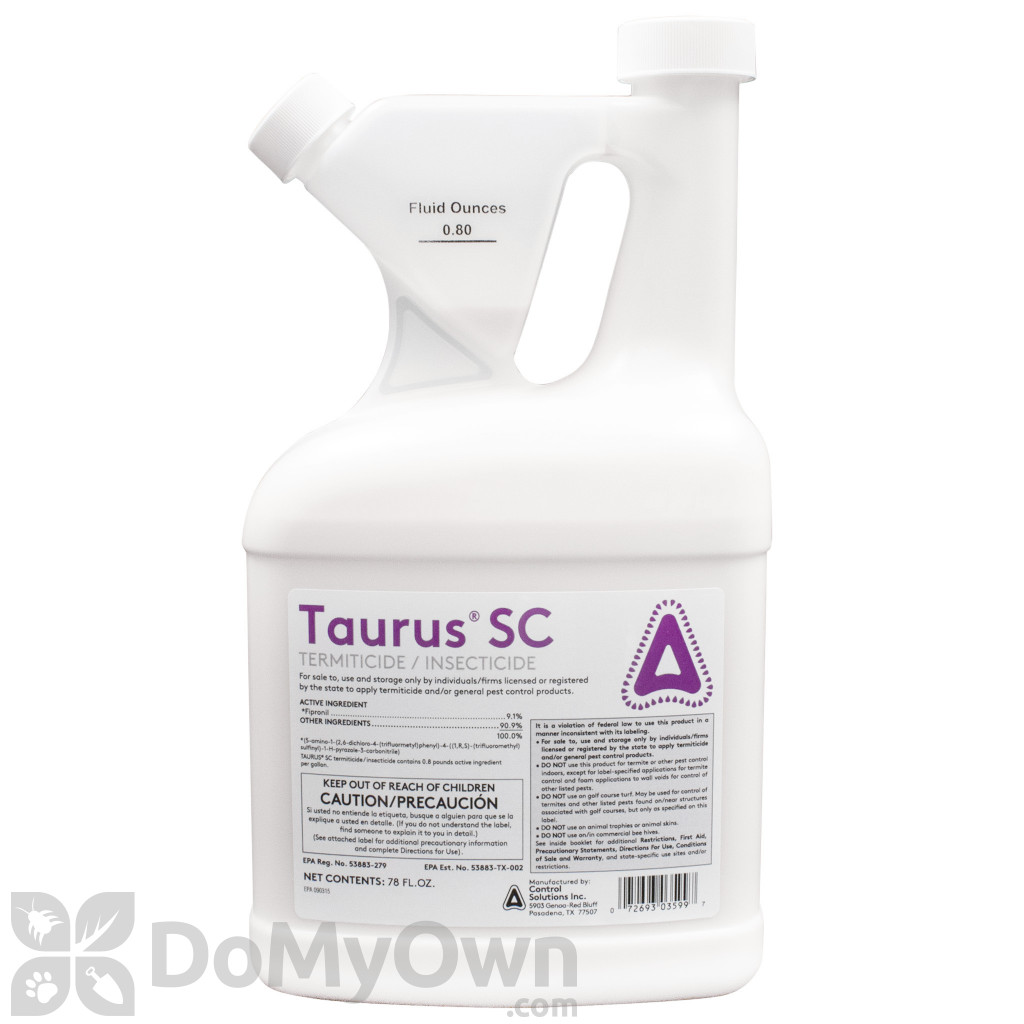 The Taurus SC is effective against termites, ants, and many other subterranean and wood-infesting pests like carpenter ants and borers. It kills Asian lady beetles, cockroaches, spiders, boxelder bugs, pillbugs, ticks, centipedes, millipedes, wasps, and yellow jackets. Depending on whether you need to prevent a termite infestation or eradicate a severe infestation, you can use this product at 0.06%, 0.09%, or 0.125% dilution rates.
This product is intended to be used as an exterior perimeter treatment or a localized interior treatment. To prevent termites from infesting your house, create a continuous pest barrier around it by trenching. Apply the insecticide at a rate of 4 gallons of ready-to-use solutions per 10 linear feet. Make sure that the trenches are not more than six inches in width and not less than six inches in depth.
Insert a rod to get the termiticide deep into the soil where these pests live. It is recommended that the distance between the holes does not exceed 12 inches. If trenching is impossible, such as concrete areas around your home, apply the insecticide just by rodding. Patios and porches may require drilling to put the solution in place. The Taurus SC can also be applied to hard-to-reach crawl spaces. The treated area should be at least two feet in both directions from the traces of termite activity.
A Review of Taurus SC | How Long Does Taurus SC Last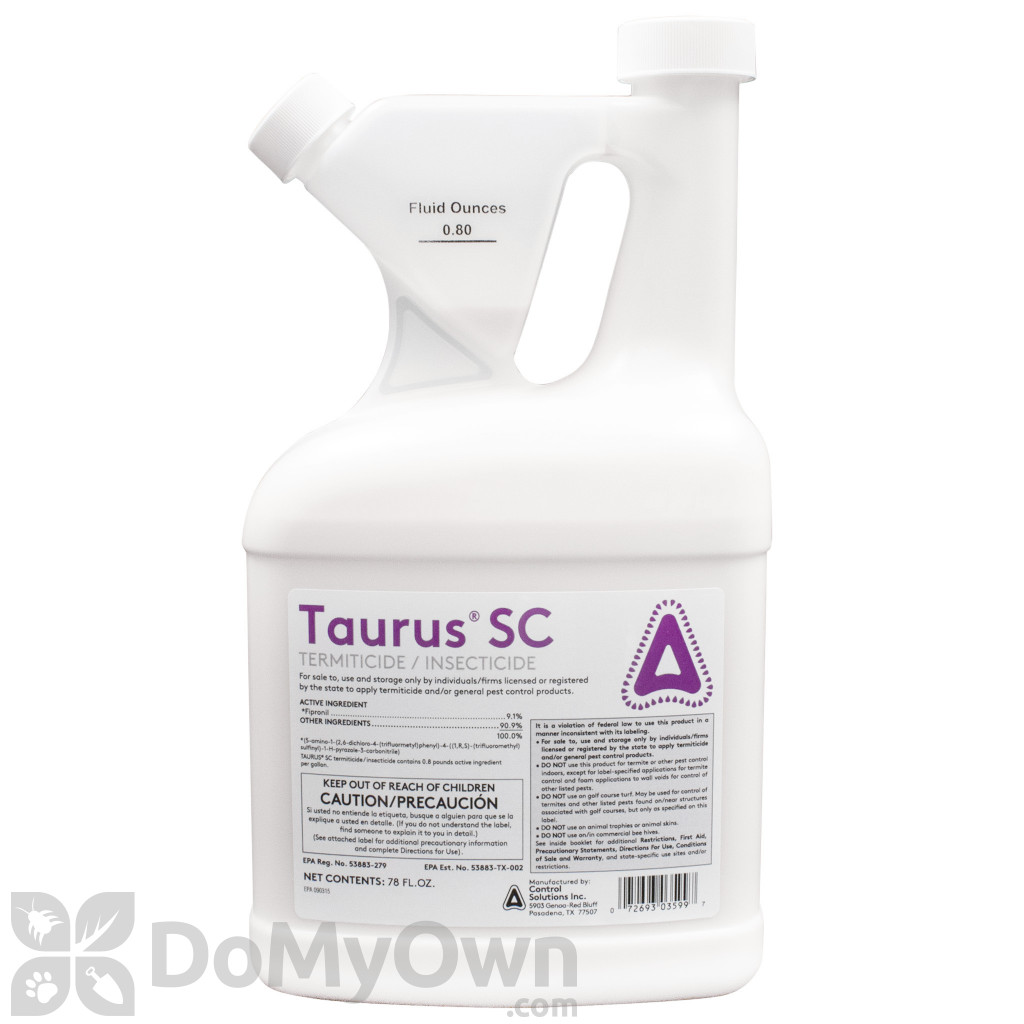 Made by Control Solutions, a trusted American brand of pest control products, the Taurus SC features a long-lasting and highly efficient formula. The main ingredient, 9.1% fipronil, works great on crawling insects, such as ants, cockroaches, ticks, spiders, and fleas. Fipronil acts slowly but eliminates the entire colony. Within several days after application, it provides approximately 90-95% reduction in the pest population. When it comes to ants and termites, it might take this product a little bit longer to eliminate the infestation — up to a few weeks.
One of the advantages of this product is that it does not repel insects. Indeed, you wouldn't want the pests infesting your yard or house to avoid the substance intended to kill them. Solutions with repellent properties may be more versatile but are actually less efficient in killing insects.
The Taurus SC can be applied in different ways but the most recommended one is around the outside perimeter of a building foundation. This will create a barrier around your house, shed, or garage, preventing bugs from entering it. The Taurus SC can also be used to treat basements, crawl spaces, and porches. The manufacturer advises making up to 4 applications each year at the 0.03% dilution rate.
The concentrate comes in 20-ounce, 78-ounce, and 2.5-gallon bottles. In our judgement, the 78oz bottle seems to be the most economical option for creating a barrier around an average-size house. The Taurus SC is very popular with customers. One of the buyers says that he has not seen any signs of termites for about 3 weeks since the product was applied. The other one notes that the Taurus SC works fast and is especially good at eliminating "crazy ants." Other customers also appreciate the ease of use.
Taurus SC: Check the current price
Termiticides Compared: Taurus SC vs Termidor vs Talstar vs Demon Max | Liquid, Sprays, Foam, Granules, Baits, Powder
Below, you will find a comparative review of insecticides for termite treatment. They are made with different active ingredients of varying toxicity and act in a different way. There are products formulated in liquid, granular, or powder form. Some are ready-to-use solutions while others require mixing with water. There are also spikes containing insecticide that are designed for killing and monitoring termites.
Demon Max Insecticide Pint 25.3% Cypermethrin | Best Termiticide for Spot Treatment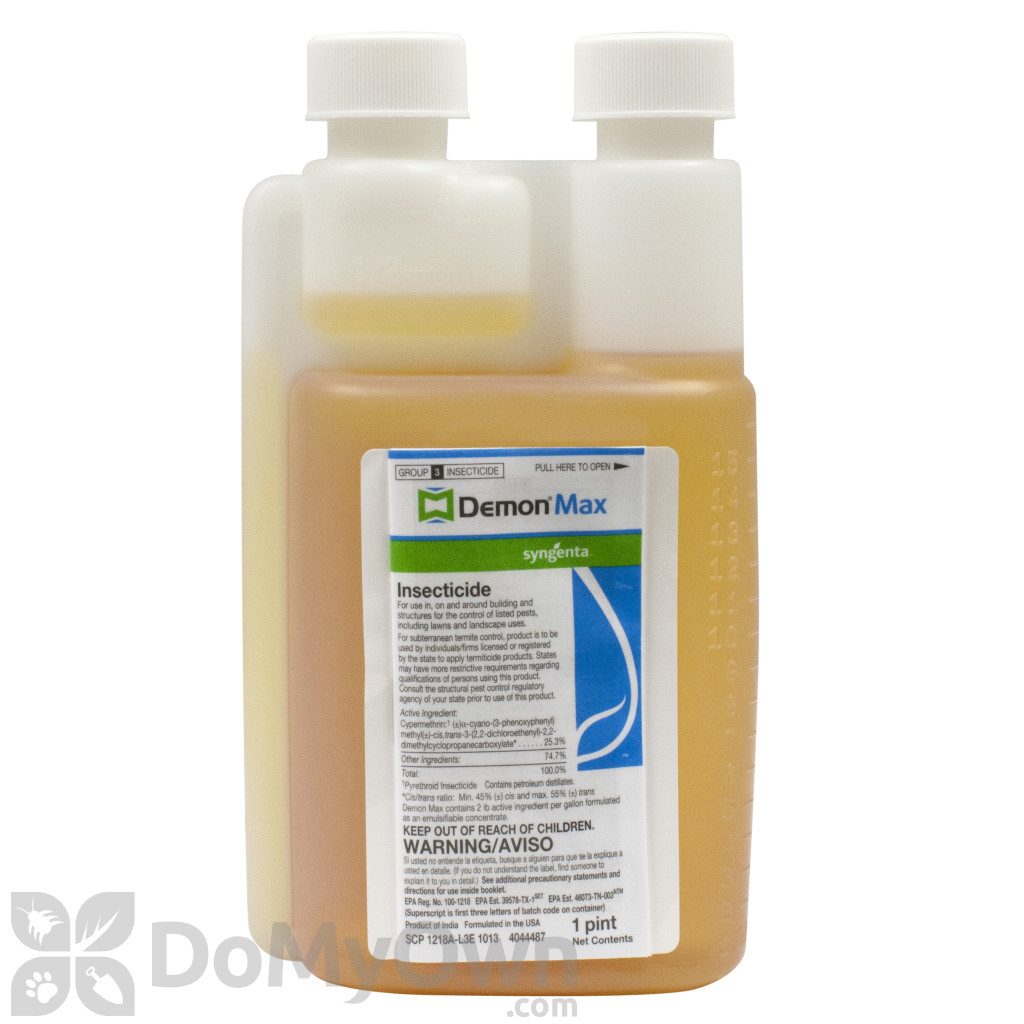 While the Taurus SC is a perfect option for a perimeter treatment, the Demon Max is meant for treating cracks, crevices, and other hard-to-reach spots. Oftentimes, it is injected into the soil, providing excellent termite control. Both insecticides are ideal for ant and termite control and come as concentrates. However, the Demon Max is more concentrated as it contains 25% of the active ingredient.
Another difference lies in the type of active ingredient. The Demon Max is made with cypermethrin, a synthetic pyrethroid, registered to control indoor pests like roaches or fleas as well as fruit and vegetable pests outdoors. Unlike fipronil, cypermethrin is a fast-acting neurotoxin and kills target pests within a day. That said, it has a long-time residual lasting for up to 3 months. Keep in mind that this product is based on a dual-action formula, meaning that it not only kills but also repels insects. So if you are looking for an insecticide that can also be used as a repellent, the Demon Max will be the best bet for you.
Demon Max Insecticide: Check the current price
BASF 805571 Termidor Foam Termiticide/Insecticide | Best for Hard-to-Reach Places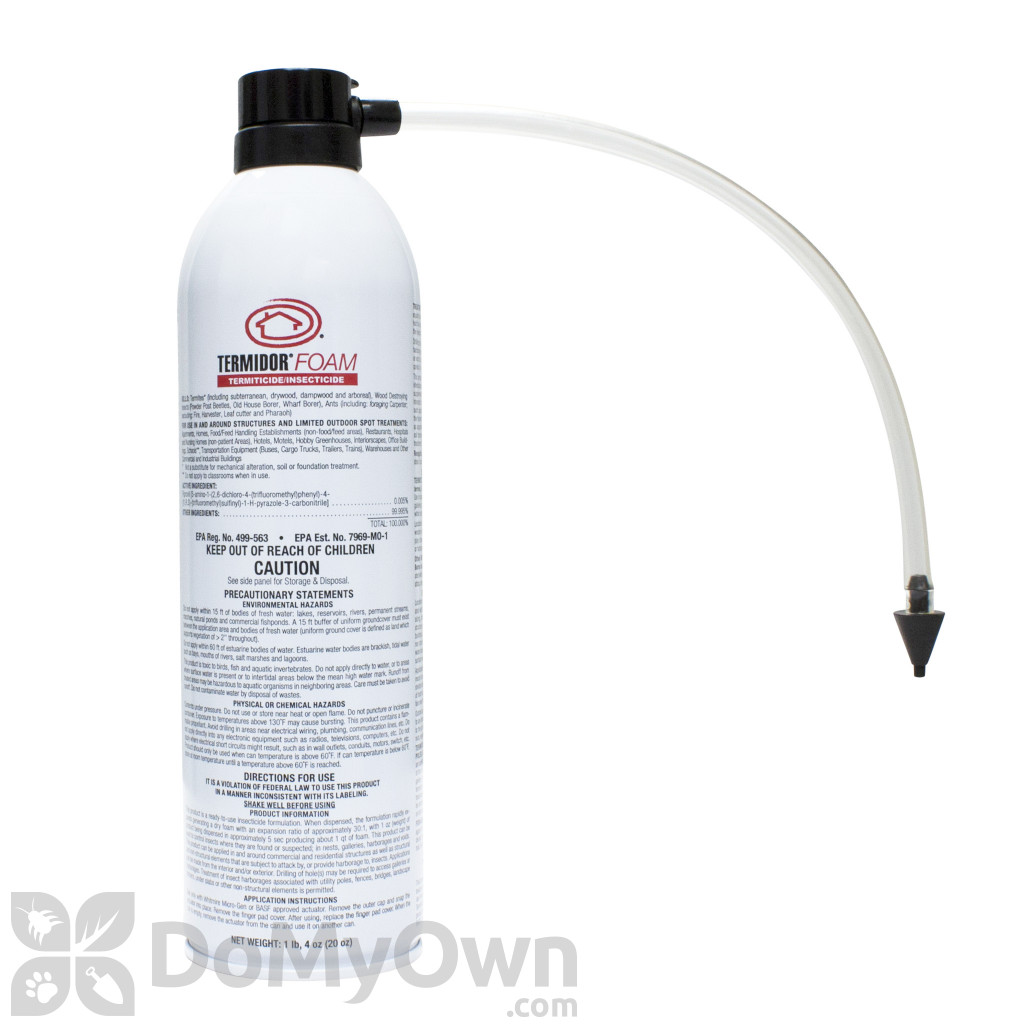 If you are looking for a fipronil-based solution but do not want to mess with diluting concentrates, opt for this product. This ready-to-use foam insecticide contains .0005% fipronil and is recommended for controlling ants, termites, and all sorts of wood-infesting pests.
The BASF 805571 comes in a convenient can with a long application tube, which is designed to be inserted into holes and cracks. Then, you just press the button and the insecticide will flow into the most hard-to-reach hiding places of pests. The insecticide can flow several feet away from where the tube was inserted as the foam expands at a ratio of 30:1 within seconds. That foam does not break down easily and stays intact for a long time.
When is it more advantageous to use the Termidor Foam, given that it has the same ingredient as the Taurus SC? Of course, you cannot use it as a perimeter or broadcast application. In fact, it would be technically impossible to do. But in terms of spot treatment, the BASF foam shows excellent results and is considered to be one of the best termiticides on the U.S. market.
BASF 805571 Termidor Foam: Check the current price
Talstar Pro 96 ounce (3/4 gallon) | Best Multi-Use with Long-Lasting Residual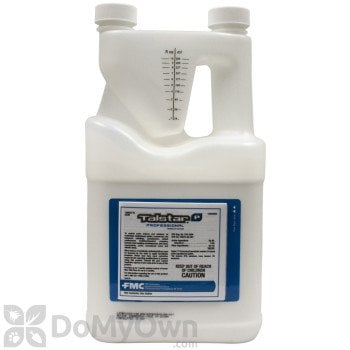 If you want to control different indoor and outdoor pests with just one product, try the Talstar Pro insecticide formulated with 7.9% bifenthrin. This active ingredient is the most versatile and targets as many as 75 pest species. Whether you need to eradicate insects in the lawn, greenhouse, or in spaces where food is stored and prepared, the Talstar Pro will be a great choice.
Another reason for choosing this product is that it has a long-lasting residual. Depending on the insect species, it provides an insecticidal effect for up to three months. On top of that, the Talstar Pro is very economical, with one quart making over 90 ready-to-use sprays. It has an odorless water-based formula and does not harm plants.
With all this in mind, what is the point in using the Taurus SC rather than the Talstar Pro? The Taurus is a dedicated solution for perimeter treatment. This insecticide is often used by professionals to protect a building before and after its construction, and this is what it is meant for. Secondly, fipronil is very effective against pests that have become resistant to other insecticides, including bifenthrin.
Talstar Pro 96 ounce: Check the current price
Control Solutions Fuse Foam Ready-to-Use Insecticide | Best Versatile Termiticide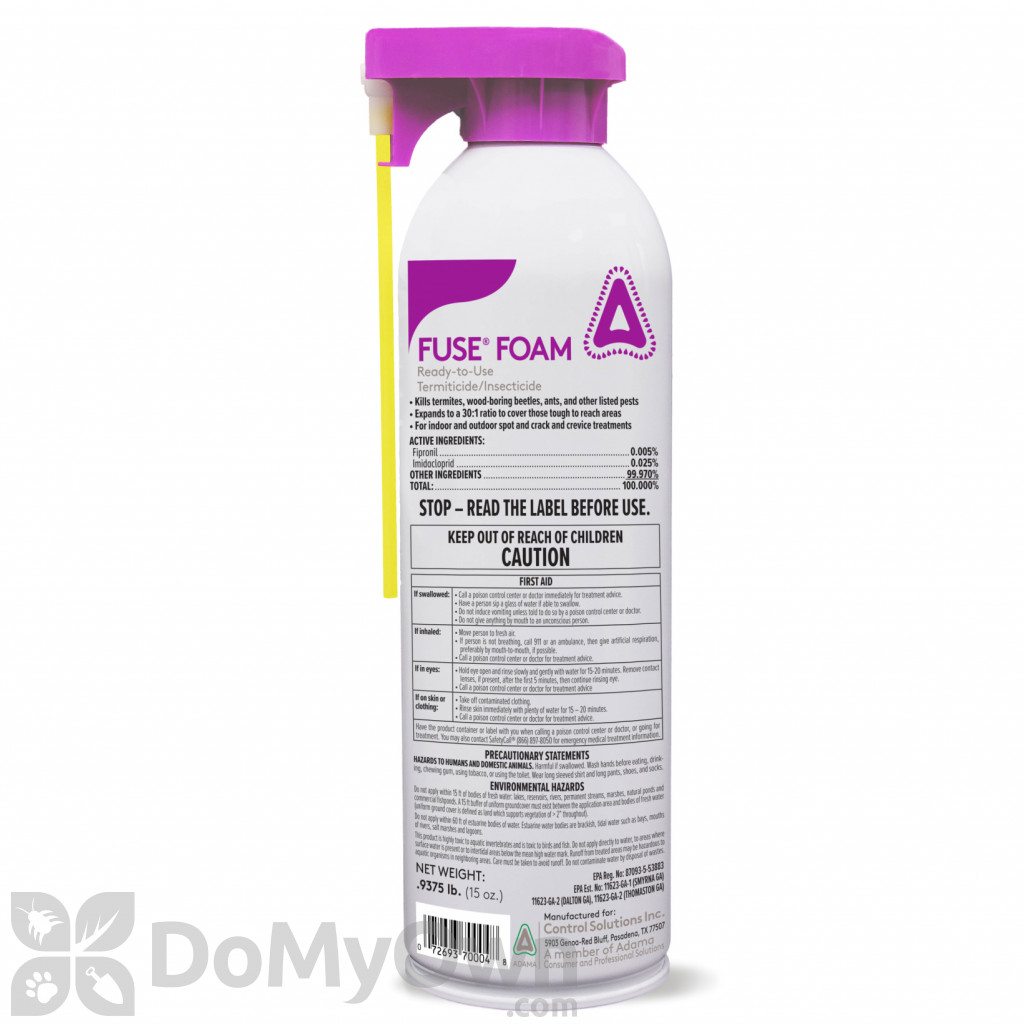 Unlike the BASF Termidor Foam and the Taurus SC, this insecticide contains not only fipronil but also imidacloprid (0.025%). This makes it a more versatile product, especially when it comes to getting rid of lawn pests. Imidacloprid is widely used for crop protection in agriculture as it is highly effective in eradicating aphids, thrips, beetles, stink bugs, and many other crop-damaging insects. The insecticide is applied to the foliage, soil, and seeds.
Whereas fipronil is a slow-acting insecticide, imidacloprid is a fast-acting compound giving a quick knockdown effect. Additionally, imidacloprid is a systemic insecticide, which means that it can be easily absorbed by the plant and move throughout its tissues, reaching its roots, flowers, or fruits. This makes the product more effective in killing lawn pests but less safe to plants.
Whether you have a pest issue inside the house or outside it, this convenient 15oz can will help you get rid of nasty critters. You can apply the expandable foam to voids and crevices indoors or pest nest and harborages outdoors to eliminate carpenter bees, boxelder bugs, Asian lady beetles, cluster flies, termites, ants, and other wood-destroying insects.
Control Solutions Fuse Foam: Check the current price
BioAdvanced 700350A Termite Killer Home Perimeter Treatment | Best Granular Termiticide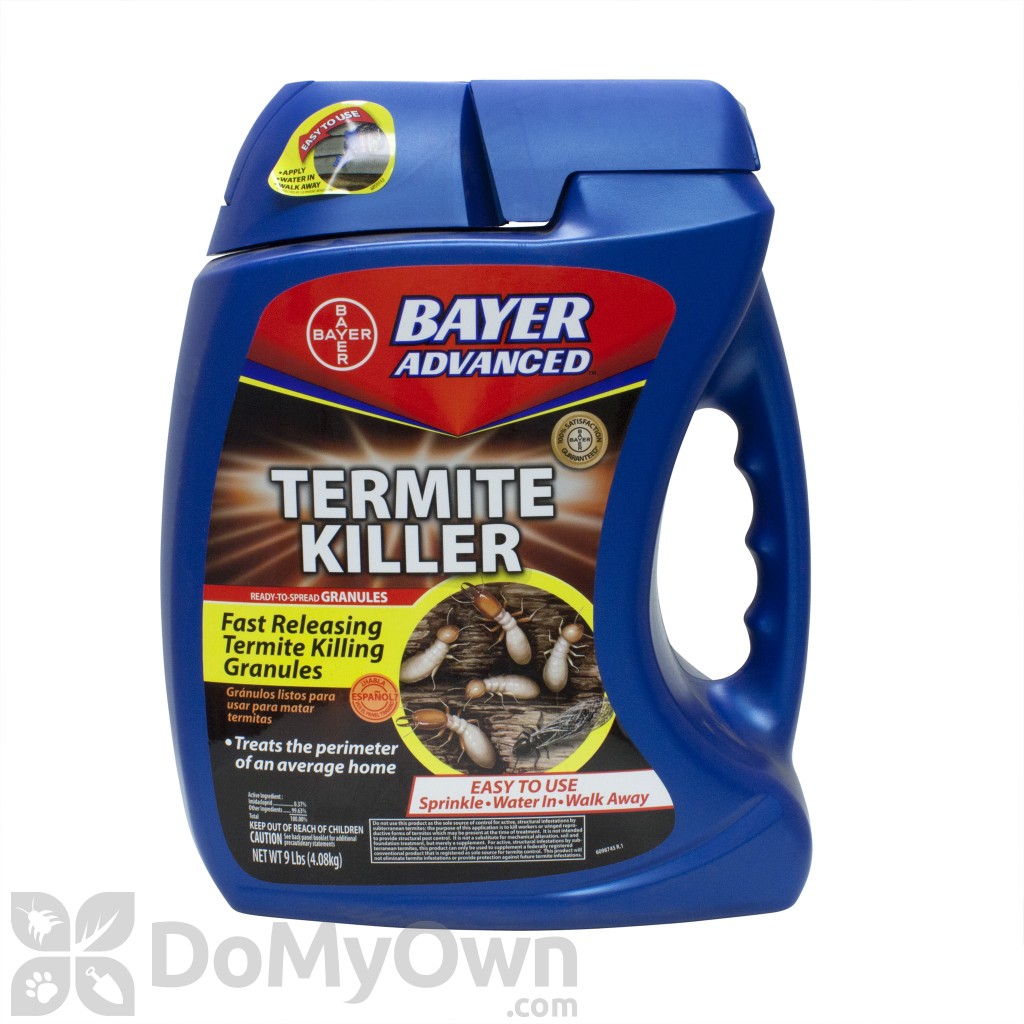 All the above-mentioned insecticides, including the Taurus SC, come in liquid form. This one is formulated in granules, something that confers certain advantages. First of all, granules are generally a ready-to-use product. You can quickly and easily load the spreader and distribute the granules throughout the infested area. Secondly, granular insecticides allow you to cover a larger area in one pass and have better weather-resistant properties.
A granular or liquid insecticide can be favored in different seasons and depending on the insect and weather. Liquid insecticides are preferred in hot summers and can be applied to foliage. On the other hand, they are hard to contain when spilled. Besides, it may be a challenging task to ensure the proper dilution ratio of the concentrate.
The BioAdvanced Termite Killer is a 9-pound bottle containing fast-releasing granules. Made with a shaker applicator, the product is easy to use and covers 200 linear feet. After sprinkling the granules, irrigate the treated area so that the active ingredient could come into effect. Based on .37% imidacloprid, the product is formulated for perimeter and soil applications.
BioAdvanced 700350A Termite Killer: Check the current price
Expert Opinion: Brian Gaspard, Regional Manager at J&J Exterminating Company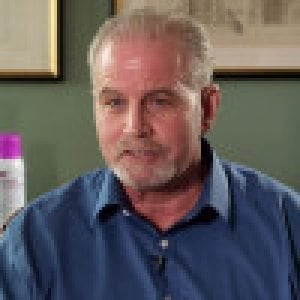 Brian Gaspard
, Pest Management Expert
Brian Gaspard is a South Louisiana regional manager at J&J Exterminating Company. It is the largest independently-owned company in Louisiana that provides services of pest and rodent control. The company has more than 60 years of experience and has been working with both homeowners and businesses.
"We fight the Formosan termites as well as Reticulitermes throughout Louisiana now. Termites in general do more damage than any natural disaster. They are a growing force even though there are a lot of treatment applications in place right now. Formosans and termites in general continue to thrive. The use of products such as Taurus SC has allowed us to control termite activity in and around the structures that we treat. We use Taurus SC on all our pre-treated homes. There are homes being built in areas that used to be forests or areas where the moisture content is extremely high and Formosan populations are astronomical. So we chose to use that as our product on these pre-treated outer perimeter areas of these homes".
The Taurus SC can be used and stored by a licensed individual or organization. It would be beneficial for a general homeowner to learn about strong points and application rules for this product. Keep in mind that it is a violation of federal law to use this termiticide in a manner inconsistent with the label directions.
Best Termiticides | Comparison Table
Spectracide Terminate Termite Detection & Killing Stakes2 | Best Termiticide for Soil Application
This is an absolutely different approach to termite control, which has nothing to do with spraying or sprinkling insecticides. The kit includes 15 insecticidal stakes with locator shields and a tool for digging a hole in the soil. Why choose this product? Created specifically for ants and termites, it kills them fast. The active ingredient is 0.50% hexaflumuron, a chemical used in termite monitoring and baiting systems. This insecticide stops the insect's growth and prevents the formation of a new exoskeleton in termites.
Not only does this product eliminate critters but it also allows you to monitor their activity using the pop-up indicator. Don't worry, these stakes are easy to install. Place them around the desk, in crawl spaces, and moist areas where termite activity has been seen. The stakes should be installed about 10 feet apart and several feet away from your house. The locator shields will allow you to find the stakes later.
Perhaps the biggest downside of this option is that it has a limited effect. These stakes kill only foraging ants and are useless against mounds. Nor can they be used as a perimeter treatment. For this reason, we recommend the Spectracide stakes as an additional measure to use in combination with insecticides like the Taurus SC.
Spectracide Terminate: Check the current price
Last update on 2023-05-30 / Affiliate links / Images from Amazon Product Advertising API
HARRIS Termite Treatment and Mold Killer | Best for Wood
What does make this product fundamentally different from others on the list? Not only does it kill wood-infesting insects, such as termites, beetles, and ants, but it also destroys mold and fungi on wooden materials. Formulated in powder, the product is non-inflammable and has no odor.
Each 16-ounce canister makes 1 gallon of a ready-to-use solution and covers approximately 200 sq. ft. Spray the insecticide into holes, woods, fences, and other sites typically infested by these critters. The Harris termiticide is great for both killing and preventing termite infestations. And finally, this product is a budget-friendly option as it will cost you a little bit over $10.
Another substantial benefit of the Harris termite killer is that it is eco-friendly and safe for humans and pets. The solution is based on disodium octaborate tetrahydrate, which is an alkaline salt, not a toxic chemical. This salt disrupts the insect's digestive system, causing it to die from starvation. Typically, products with this ingredient have an unlimited shelf life and cannot be damaged by high or low temperatures.
HARRIS Termite Treatment and Mold Killer: Check the current price
Last update on 2023-05-30 / Affiliate links / Images from Amazon Product Advertising API
Is Taurus SC Effective? Pros & Cons. Downsides. Safety
The insecticide is based on fipronil, a chemical compound that was developed in response to increasing pest resistance to most common insecticides. According to scientists at Ohio State University, fipronil is more effective in killing certain insect species that are resistant to other insecticides such as pyrethroids and organophosphates. In addition to termites and ants, this active ingredient works great on cockroaches, fleas, ticks, weevils, worms, and beetles.
However, the efficacy of fipronil may be negatively affected by the presence of some other insecticides. For example, entomologist Pan Luo from Louisiana State University has conducted a study to find out whether two active ingredients with different modes of action, fipronil and imidacloprid, can give a synergistic effect when used together. These insecticides were tested on Formosan termites, which are believed to be the world's most destructive structural pests.
The researcher has discovered that mixing imidacloprid with fipronil reduces the effectiveness of termite control compared to using fipronil alone. That said, imidacloprid alone has a lower mortality rate in comparison with the mixture. The results of these findings suggest that fipronil is more effective against Formosan termites, and more importantly, that imidacloprid can decrease its effectiveness.
The main problem with fipronil is that it can have a negative impact on the environment, especially in rainy seasons. In particular, its residue was found in urban watersheds in California. For this reason, the California Department of Pesticide Regulation has recently asked manufacturers of liquid fipronil-based insecticides to modify the product labels regarding the rules for perimeter applications around buildings in this state. Namely, the insecticide must not get into gutters or storm drains or applied directly to drains or sewers. These changes are meant to keep fipronil out of watersheds.
Other Insecticides Made by Control Solutions (CSI)
Control Solutions Inc is a well-established brand of pest control and lawn care products, headquartered in Pasadena, Texas. The company was established more than 60 years ago as a chemical manufacturer and today is a member of the ADAMA Group, which is one of the world's top agricultural chemical companies.
Another reason for buying insecticide produced by Control Solutions is the broad choice of active ingredients the company offers. This includes both professional and consumer insecticides, with the latter being sold under Martin's brand. Not only are these products effective but they are also cost-efficient. Now, let's see what kind of ingredients are used in insecticides produced by Control Solutions.