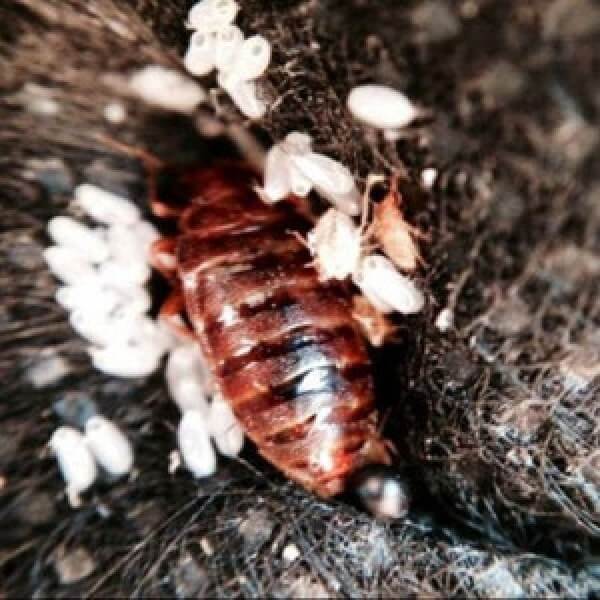 When you first see bed bugs on your mattress, you'll instantly think of slaying them, and you'll fallaciously imagine your victory over these insects. But even if you kill all of the bugs you immediately see, a huge amount of bed bug eggs and adult species will hide inside the mattress, box spring or in the cracks of your wooden bed frame. And you'll get bitten again at night. What should you do? Bed bug mattress encasements have proven to be a great preventive or proactive measure of bed bug control.
How Do Mattress Covers for Bed Bugs Work?
Mattress encasements are cases made of strong materials (polyurethane, polyester, etc.), which are designed to protect the mattress from bed bugs getting inside and outside the mattress.
Many people believe that the trick that bed bugs covers do is that they are slippery and the bugs therefore simply slip off and can't crawl back up. This isn't true though. Unlike some obsolete vinyl protectors (some of which used to be slippery, hence such misconception), modern materials (polyurethane polyester) are not such at all.
The main property that helps them fight off the bed bugs is their density. Bed bug mattress protectors are supposed to be very dense, that's why they are tested in lab conditions for bed bug bites resistance. Should the fabric be woven not tightly enough, the encasement will be useless. It is the dense fabric that won't let the bugs get out of the old infested mattress and crawl inside a brand new one.
All in all, there are two ways of using a mattress cover:
As a preventive measure for a new mattress.
For protection and treatment of an old infested mattress.
The first aspect of using a cover doesn't provoke any questions, since a new mattress is absolutely sterile. As for the second one, you'll have to work a bit on your old mattress. Before using a protector you are to vacuum clean the mattress and box spring and patiently clean out all of the bugs, their feces, dead bodies, eggs etc from the cracks and corners of your bed with a stiff brush. You can also treat your mattress with a bed bug spray for additional safety and your peace of mind. Only after that you can put the encasement on.
How much time do you need to get rid of bed bugs with mattress covers? The US Environmental Protection Agency recommends using a protective cover for at least a year from the moment of putting it on, and you are supposed to keep it one so that all the bed bugs and their larvae inside your mattress die from lack of nutrition. And then, as a preventive measure, you can use it on a regular basis.
In addition to the promised bed bugs protection, a good cover will also protect you from dust mites, and is hypoallergenic, waterproof and anti-bacterial. It is quite possible to find a durable mattress cover if you know how to pick it and what to look for.
7 Useful Tips for Picking a Bed Bug Proof Mattress Encasement
There are many details to pay attention to when picking the right mattress bed bugs cover:
Make sure you pay attention to the density of the fabric, the denser it is, the better. We advise you to choose the polyurethane protectors as they are pleasant to the touch and won't rustle during your sleep.
A proper bed bug proof mattress cover has a zipper for sure sealing, not a Velcro or ties! The Alaska Department of Enviromental Conversation recommends paying attention to the fact that "the zipper must have very small teeth that are close together to prevent even tiny, immature bugs from weaving in between the zipper teeth and escaping". It should as well have a zipper stop end in order to avoid accidental opening of the zipper.
The integrity of a mattress encasement is also important. There should be no holes, no thin inserts or pretty patterns; the fabric is to be homogeneous and dense.
When picking an encasement, pay closer attention to the size of the cover, and specify all the dimensions so that the cover is worn like a glove. The depth is important: some mattress covers can stretch to fit mattress depth from 6 "to 18", while others stretch only up to 9". Remember that the box spring is the second most popular place of bed bugs infestation after the actual mattress. It is thus desirable to have a separate cover for it. Do not look for compromise solutions: according to The Official Website of NYC, "box springs should only be discarded if they cannot be covered and are heavily infested".
Don't buy chemically treated covers. They are soaked with insecticides and, according to the manufacturers; they kill bed bugs on contact and repel them afterwards. However, as per the Alaska DEC proof, "these covers DO NOT effectively kill bed bugs or eliminate infestations, but they do expose sleepers to insecticides". They are therefore not recommended to be used as protection against insects since they can cause even more harm to your health more than to the health of bed bugs.
Use only factory-made bed bugs mattress covers. Such threads as "Hand-made mattress covers" on various bed bugs forums prompted us to include this point. It should be obvious to everybody that handmade covers cannot be used as they are a waste of effort and money. Factory mattress covers are tested for pore size and durability and are made of special materials with firm zippers.
Many manufacturers specifically indicate that their mattresses are vinyl free, because although vinyl protectors are still sold, they are torn easily. The manufacturers hence specifically point out that the product contains no vinyl so as to detach themselves as much as possible from the manufacturers of old cheap tablecloths.
We have studied the entire bed bug encasement market and have drawn up our own top list of the products which correspond to the abovementioned requirements. All of the manufacturers claim that their products are waterproof and will protect you from bed bugs, dust mites and other allergenic pests. Is that really so? Let us check!
A Review of 5 Best Bed Bug Mattress Protectors
Sleep Defense System - Waterproof / Bed Bug Proof Mattress Encasement - 60-Inch by 80-Inch, Queen
Here is the leader of our rating, a #1 Best Seller in the Mattress Encasements category on Amazon.com rated 4.6 out of 5 stars, which means that over 90% of users were satisfied with Sleep Defense System, especially in terms of getting good value for money as the cover only costs ~$38.
Many users share that the exterminators advised them to purchase this bed bug cover made of thin polyester and to use it for at least 6 months (or better, for over a year), and this piece of advice worked! Along with other complex measures for getting rid of bed bugs, Sleep Defense System cuts the amount of bed bug bites to only a few per months or can sometimes fully eliminate bed bug infestation in a house within a short period of time. Most of the customers confirm this.
This mattress cover is also suitable for those suffering from allergies or asthma so that they could protect themselves from the dust mites living inside the mattress. Read nearly 3000 other customer reviews on Amazon.com.
As for the water resistance, it seemed to us that after the complaints of the encasement's poor water resistance have become more and more common (it were the parents of kids who wet the bed or spill some drinks who complained most often), the manufacturer has posted a disclaimer specifying that this very mattress encasement can only hold little amount of liquid on the surface, and is absolutely not resistant to large volumes of it. However, it is the ability to protect the users from bed bugs which matters the most to us, and Sleep Defense System is doing a great job at it!
Price: ~$38 Check the current price
Ah, in order to completely protect yourself from the bed bugs everywhere, you can also buy "Bed Bug Proof" Box Spring Encasement for $25. Many consumers also additionally buy Hospitology Sleep Defense System Waterproof/Dust Mite Proof Pillow Encasement for $14.00 in order to be protected from dust mites for sure as well.
LUCID Encasement Mattress Protector - Guards Against Bed Bugs - 100% Waterproof -15 Year Warranty - Queen/White
This mattress protector for ~$29.99 has made it to our list because we were very interested in the 15 years' warranty. Is the manufacturer is that confident of the quality? The rating of this encasement is quite high, 4.3 stars out of 5.
According to the customer feedback, the fabric is very dense, pleasant and comfortable for sleep, it doesn't rustle at night. It is comfortable to sleep on it, and you won't get too hot. This encasement turned out to really protect you from bed bugs, as those who accidentally (!) bought it found out.
We have come across Cheryl's review who believed a new mattress would be shipped to her for the stated price. She wanted to get it instead of her old one, which was infested with the bed bugs. When Lucid Encasement was delivered, she couldn't but put it on her old mattress. After that she claimed that "I think I got the best night's sleep last night that I've had in about 8 months!". From now on neither she nor her boyfriend gets bitten at night by the bed bugs.
By the way, it is rather difficult to put on a mattress protector on your own. Almost all of the customers claim that at least 2 people are needed for this, and that a manual is desirable since it is not always clear which side of the encasement should be on top.
Making a conclusion, we should say that this is a good firm bed bugs mattress protector at a reasonable price.
Price: ~$29.99 Check the current price
NB! Dust Mite Proof. Most of the customers' complaints touch upon the fact that their mattress protector wasn't able to protect them from dust mite allergy. Let's think a bit though.
As far as the Dust Mite Protection promised by all of the manufacturers is concerned, things are not that simple. Using a Mattress Protector only won't suffice since dust mites live everywhere in your bedroom. They inhabit not only the mattress, but also the pillows, blankets and plaids. That's why in case you suffer from dust mite allergy, you'll have to replace all of your bed sheets instead of waiting for the Mattress Protector to perform a miracle. Read about how to get rid of dust mites.
Queen Size SafeRest Premium Waterproof Lab Certified Bed Bug Proof Zippered Mattress Encasement (Fits 9 - 12 in. H) - Designed For Complete Bed Bug, Dust Mite and Fluid Protection
Here is a popular encasement made by a famous manufacturer SafeRest, rated 4.5 stars out of 5 by the Amazon.com users. It is promised to protect you from bed bugs, dust mites and other pests and to be waterproof. It also has a special Velcro flap which keeps the zipper end intact, so the sealing is proven.
SafeRest Mattress Encasement for ~$48.95 has already helped many people (90% of the customers are satisfied with it, you can read over 1100 customer reviews to see it for yourself) not only eliminate the bed bugs, but also avoid bed bug bites allergy. Many buyers advise to move the bed away from the outlets, windows and other furniture during the period of use of the mattress protector, because bed bugs can live anywhere and get on the bed again. It is important to conduct comprehensive elimination of bed bugs, because putting on a protective cover only won't help, it is also important to use the bed bugs killer sprays and other means of controlling them.
Price: ~$48.95
LINENSPA Zippered Encasement Waterproof, Dust Mite Proof, Bed Bug Proof Breathable Mattress Protector - Queen Size
This product is great if it is critically important for you to combine bedbug protection and water resistance. It is made of waterproof polyurethane! Many users spill water on this mattress on purpose to check whether it will stay dry. And it does, hence the 4.6 stars out of 5 rating on Amazon.com.
LInenspa Mattress Protector for ~$29.99 has only a few dozen customer reviews, and almost all of the consumers buy it as a waterproof cover. According to the feedback though, it is also good at dealing with the bed bugs. It is preferable to use it as a bed bug prevention method, rather than as a product for eliminating the actual infestation.
It should be noted that regular LINENSPA Premium Mattress Protectors made by this manufacturer are best sellers, so the company can really be trusted. But some customers claim that because the material is water resistant, it is a little hot for them to sleep on such a mattress, and so they sweat. But here you have to prioritize and decide whether water resistance of a mattress is very important to you.
Price: ~$29.99
Utopia Bedding Bed Bug Proof Box Spring Encasement, Protects Against Dust Mites, Bacteria, and Allergens, Preserves Box Spring Mattress (Queen)
Here is the most cut-rate option on our list. Protecting your box spring and mattress will only cost you ~$12.99. The manufacturer gives a warning that "The encasement can cover a mattress and box spring of up to 9" inches thick". Therefore, if your mattress is thicker, you will have to buy 2 different covers.
Surprisingly, a consumer will get waterproof encasements for this price, as proven by small children. The product was also tested by the bed bugs attack: the customers claim that although the cover is a bit too thin, it deals with the bugs well. They have seen the insects swarming all over the surface of Utopia Bed Bug Proof Box Spring Encasement, but they were not able to get inside it. So far this product hasn't been too popular, and few people have taken a chance to use it as a bed bug mattress protector. Overall, this encasement is quite alright and can even become the best one among other moderately-priced ones.
It has some drawbacks though, as the encasement rustles and the sheets slip over it a bit as it is made of non-woven fabric. This can be a serious disadvantage for those who value comfortable sleeping. This is a quite acceptable option for its price, though.
Price: ~$12.99 Check the current price
All in all, we'll draw the following conclusion. All of the 5 mattresses we've looked at are worth paying attention to, are worth their price and they will 100% protect you from bed bugs. You only have to decide how much you are willing to spend on your comfortable sleep:
$12, $38 or $49?