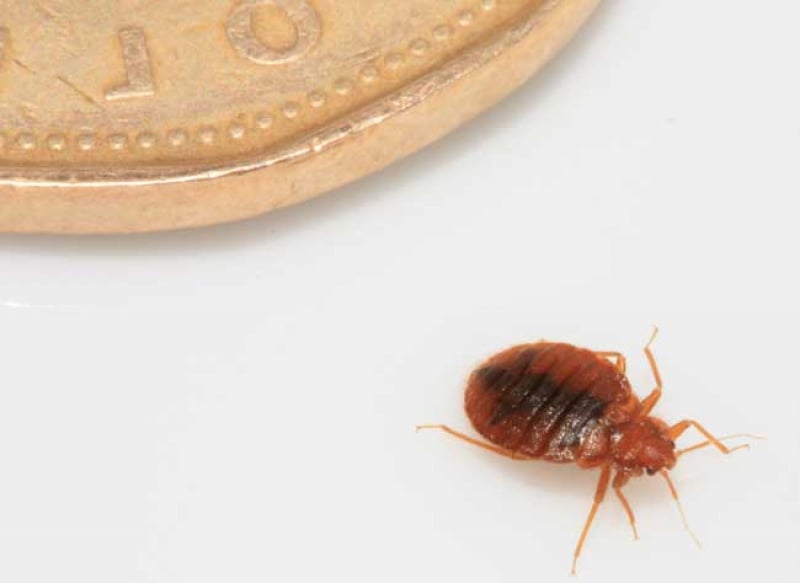 Bed bugs have become a common household problem since the World War II era. Around that time they were eliminated with loads of different pesticides. However due to the bed bugs' undercover behavior and habits combined with a lack of public awareness, their infestation spread at a very rapid rate world-wide. Bed bug spray is the fastest bed bug killer. So many sprays, but which one to choose? We'll help you to make the right choice. Here you'll find 5 best bed bug sprays: natural and professional bed bug killers.
Even today no specialist can identify for sure what actually causes an increased bed bug activity globally. What has been proven is that bed bugs have been primarily identified in the hotel rooms. That is why this specific insect is generally associated with travelling, but not with poor sanitation or just poverty. Yes, cleanliness and social status have nothing in common with getting bed bugs. This misconception leads to the million dollar question of how to get rid of bed bugs in the hotels, commercial buildings, public transportation, and people's houses.
Without residual pesticide application the bed bugs can travel freely and safely. They just move from the luggage right into the bed, and thus a new infestation begins. Luckily, today's pest management practices can boast of a miraculous elimination of bed bugs. Bed bug infestation in the hotels and motels, as well as apartments and houses today can be eliminated with the help of pesticides.
But as VDACS research shows, "There are relatively few insecticide products registered for indoor use. Those that are registered are primarily from one chemical class, the pyrethroids. Bed bug populations in the United States are known to be resistant to pyrethroids, therefore no single insecticide is capable of eliminating a bed bug infestation if used alone". Scientists recommend not relying entirely on the repellents and IGRs (insect growth regulators) in terms of completely exterminating bed bugs, but also using such bed bugs control products as liquid insecticide sprays, insecticidal dusts and of course aerosol insecticide sprays.
What You Need to Know Before Spraying the Room
1. All bed bug sprays work in the same way: they kill the insects once they come in contact with them. The manufacturers promise that this is a matter of minutes or even seconds and the killing effect will last for a few hours following the application. However, experience reveals that it's better to use the spray a few times regardless of the infestation scale instead of counting on the effect of a single use. In addition, the first spray can simply paralyze the insects rather than directly kill them.
2. Know the dangerous spots and objects in the room to be sprayed, such as:
Luggage you've brought from a trip. As we've mentioned earlier, ticks tend to travel and come back home with you and then spread and breed all over the house
Floor and walls, carpets, cracks in the wooden floor, in the corners, door and window frames, behind the paintings or wallpaper, outlets.
Furniture and bedding, the drawers in the chest or cabinets, sofa and armchair upholstery, mattresses, pillows, bed sheets and others.*
3. Never go for a single measure even if it seems that the bed bugs are gone. University of California scientists advise to combine the insecticides with infestation prevention measures, such as removing and cleaning infested beds, bedding, and other harborage sites—as well as nonchemical tactics such as steam or heat delivery. Make sure you also invest in a mattress cover.
4. Monitoring devices such as ClimbUp® are useful for confirming the presence of bed bugs when a visual inspection cannot. When installed under bed legs, they also provide a barrier between floor and bed which can potentially reduce bites, especially when beds are pulled slightly away walls and encased, as per advice of Michael F. Potter, Extension Entomologist, University of Kentucky.
Top-5 Best Bed Bug Sprays
We have included 5 best bed bugs killer sprays according to Amazon.com sales rating in our today's review. There are both artificial chemical and organic active component products so as to provide alternatives. Each of these products is great in its own way so instead of rating them, we'll give you a more detailed description of each of them so that you could choose one that suits your needs the best.
Bed Bug Killer By Eco Defense - All Natural Organic Formula Kills Bed Bugs on Contact - 100% Guaranteed Effective - Fastest Working Bed Bug Spray and Treatment - Child and Pet Safe - 16 oz
Although this ~$19.89 spray has only about 60 reviews on Amazon.com, it has already managed to become one of the best selling products. In spite of the fact that the manufacturer claims that this spray is all natural, we can't consider it to be fully organic as it contains, for example, such synthetic chemical as sodium lauryl sulfate (SLS). Bed Bug Killer contains such active components as Sodium Lauryl Sulfate, Geranium Oil. Inactive ingredients: Distilled Water, Citric Acid, and Ethyl Lactante. It is a good thing that some of the active components are natural ones, but nevertheless we can't call this spray all-natural.
The manufacturer promises that the spray will kill bed bugs once it comes in contact with them, as soon as possible, won't leave any stains or artificial odor, but is this really so? Yes, some users were able to quickly get rid of bed bugs with its help. They speak of "killer results" in their reviews. Others share that the spray didn't work at all or simply paralyzed the insects. The lack of odor is also debatable as some customers don't complain of it, while others say that the odor is worse than chemical sprays' one. You might as well read all of the customer reviews on your own and make your own judgment. As for us, we advise using this spray combined with other treatments as a means of indemnifying.
Price: ~$19.89 Check the current price
Bed Bug Killer by EcoRaider, 100% Fast Kill and Extended Protection, Green & Non-toxic, " Most Effective Natural Bed Bug spray" by Entomological Society of America Journal Publication 16 oz
This 16 oz bottle costs ~$19.95. Among the active ingredients of the spray are geraniol natural (1%), cedar extract (1%) and Sodium Lauryl Sulfate (2%). The manufacturer claims that this Bed Bug Killer is the most effective bed bug killer, as the Entomological Society of America Journal Publication named this spray "the only natural product that kills bed bugs with 100% efficacy". In addition, this spray is highly appreciated by experts from the Department of Entomology, Rutgers University, calling it a "potentially useful pesticide for controlling bed bug infestations."
In summary, the spray not only destroys any kind of bed bug, even those resistant to insecticides, bedbugs in the larval stage and the adult stage, but it also has a two-week residual effect. What do users say about the effectiveness of the product? Many of them agree that the sprays, including this one, are most effective as part of an integrated approach to kill the bedbugs - together with the use of a bed bug mattress cover and bed bug traps. By the way, some users have tried to improve the deadly effect of the spray, mixing it with Gentrol Insect Growth Regulator - and stated that this mix has worked better than a spray. You can also read more than 800 other reviews on Amazon.com and find out more helpful tips.
And finally, the other characteristics of the product. Cedar scent spray is not for everyone, but it is quite tolerant: "The smell of this spray is intense, it smells like concentrated cedar, like a cedar chest, but once it dissipates, the smell is not too bad". Also, Eco Raider does not leave marks on the furniture or floor, so you can spray it anywhere without getting spots and stains.
Price: ~$19.95 Check the current price
Bed Bug Spray By Killer Green - Best Non-toxic All Natural Killer & Treatment of Bedbugs 100% Risk Free Guarantee for Your Home, Hotel or Hospital. Traps Like a Powder and Kills all that come in Contact. Acts As a Repellent for 2 Weeks. Sleep in Peace! 16 oz. Exterminator grade
This is yet another bed bugs bestseller for ~$19.97. The manufacturer provides information regarding tests of this spray which took place in 2010. According to the results, 99% of bed bugs died within 11 minutes during the test (different focus groups had a range of 6-50 adult bed bugs and nymphs), so this is a decent result for Natural Killer Spray by Killer Green. The manufacturer also promises that this non-toxic spray will destroy the breeding cycle of bed bugs: from eggs to adult species and that the residual effect will last for 20 days after use.
"Will this product be both effective enough and safe for my kids?" is one of the most essential buyers' questions. The answer is yes. Kids neither itch nor sneeze, they play in the sprayed bed sheet and they're fine. Moreover, according to the consumers, the spray is odorless (which is crucial for those with allergies) and doesn't dye surfaces. Users not that the red bed bugs bite spots are gone after using Killer Spray and thus throwing out old mattress in order to sleep well is no longer necessary.
Price: ~$19.97 Check the current price
Ortho Home Defense Dual-Action Bed Bug Killer Aerosol Spray, 18-Ounce (Kills Bed Bugs, Fleas, Dust Mites & Stink Bugs)
How is this spray any different from others? The manufacturer assure you that this ~$9.35 bottle's contents are able to kill not only regular bed bugs, their eggs, fleas, ticks and lice, but also pyrethroid-resistant bed bugs. When we looked into this issue in more detail, we found a National Geographic article claiming that certain types of bed bugs have become pyrethroid insecticide-resistant, and humans are to blame as they've been exterminating these insects like that for ages. This resulted in bed bugs' DNA mutation and appearance of chemical-resistant genes. Besides the bed bugs, this spray also helps if you want to know how to get rid of dust mites.
According to the happy customers' comments, such as "Washed all my bedding, sprayed carefully around and below my queen-size bed, then I didn't get a single bite for about 2 weeks", Ortho Spray seems to be really working. Those who didn't measure period of action admit that the bugs die within 3 seconds after coming into immediate contact with the spray and never reappear. This is not an excuse to stop the combat. Re-spray all of the surfaces weekly until no signs of bed bugs are to be seen.
Price: ~$9.35 Check the current price
Harris Bed Bug Killer 1 gallon
This ~$20.99 spray kills bed bugs and lice on contact; the customers therefore call it "instant death" and often use it simultaneously with for Harris Bed Bug Diatomaceous Earth Powder ultimate extermination of bed bugs. Deltamethrin is this spray's active component.
One of the customers has shared that it were their kids who brought bed bugs home and that for the first couple of months these insects went completely unnoticed as they were breeding actively and hiding well. Their activity peaks at night, when humans are asleep. Harris Killer helped reduce the population of bed bugs, and after a few weeks of using it there were far fewer bed bugs.
Certain consumers were able to successfully test this product on cockroaches. Others use it as a preventive measure after having got rid of bed bugs or other insects. In fact, another reason for us to really like this spray is that it comes in large volume and that it is really cost-saving (which experienced users appreciate the most). You can read all customer reviews as a proof.
Price: ~$20.99 Check the current price
*Attention! Although many bed bug sprays users spray these products right over their bed sheet, we wouldn't recommend doing it if the said spray contains sodium lauryl sulfate (SLS), a synthetic chemical which is also present in all other cleaning products. According to the United States Department of Agriculture, in spite of the fact that SLS is commonly used in household chemicals production and other products, long-term contact with this substance can lead to dermatitis.
If you're still torn between a spray and a Bed bug and Flea Fogger, follow the specialists' advice. According to the National Center for Healthy Housing, "Bug bombs" are not effective against bed bugs. The pesticide droplets generated by foggers typically do not penetrate the hiding spaces used by bed bugs.
As for us, once again we would like to remind you (along with the University of California professors), that Insecticides must be combined with infestation prevention measures, such as removing and cleaning infested beds, bedding, and other harborage sites, as well as nonchemical tactics such as steam or heat delivery.
Comparative Table of the Best Bed Bug Sprays

Photo
Product
Active Ingredients
Odor
Price

Bed Bug Killer By Eco Defense

Sodium Lauryl Sulfate,

Geranium Oil

Some customers don't complain of it, while others say that the odor is worse than chemical sprays' one.

Bed Bug Killer by EcoRaider

Geraniol,

Cedar extract,

Sodium Lauryl Sulfate


Cedar scent spray is not for everyone, but it is quite tolerant.

Natural Bed Bug Killer Spray by Killer Green

Sodium Lauryl Sulfate,

Sodium Chloride,

Potassium Sorbate

The spray is odorless.

Ortho Home Defense Dual-Action Bed Bug Killer Aerosol Spray

3-phenoxybenzyl-(1RS, 3RS, 1RS, 3SR)

-2, 2-dimethyl-3-(2-methylprop-1-enyl) Cyclopropanecarboxylate,

n-Octyl bicycloheptene dicarboximide, Imidacloprid

The spray is odorless.

Harris Bed Bug Killer
Deltamethrin
The spray is odorless.